Weddings are such wonderful events. They mark the beginning of a couple's new life together and embarking on a lifelong journey. To celebrate this beautiful union, weddings are often the most memorable and creative event. Various themes and ideas come alive in this beautiful ceremony. Weddings have become a beautiful expression of love and joy. Couples have become very creative in looking for the perfect setting and decorations to suit the mood. The wedding table in particular where everyone settles in has to be eye catching. It needs to capture the essence and mood of the occasion as well as beautify the place.
There are a lot of different and creative ideas that can help spice up your wedding reception. This starts with the wedding table. Depending on the setting and theme that the reception takes on, the wedding table decorations should harmonize with the reception. We have compiled several table decoration ideas for you to choose from for different themes and settings. You can go vintage, beach to DIY ideas. You can even mix some ideas for a more unique and customized celebration. Images from different sources have been gathered to concretize the ideas for your wedding table decorations.
Wedding Reception Table Decorations
The reception is the culmination of the wedding ceremony. It should reflect the joy of the union and create wonderful memories not only for the couple but the guests as well. The most common wedding table decorations are usually flowers arranged beautifully at the center. How they are arranged creates the difference.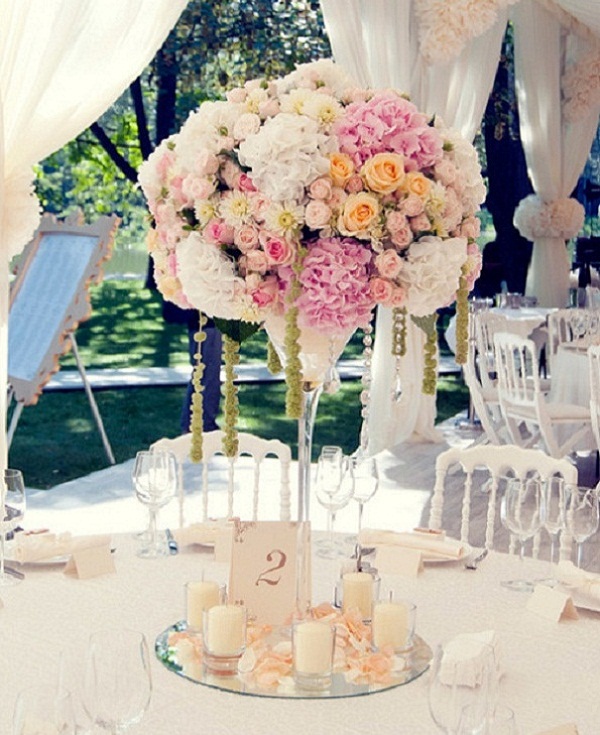 The flowers can be elegantly arranged as a centerpiece, combining different pastel colored flowers to create a dreamy, romantic atmosphere. To put emphasis on the flowers, it is raised through a high, thin stand. The stand should be simple enough as not to steal the attention away from the flowers. When the centerpiece is elaborate enough, the other decorations should be simple to accent it. Light colored table napkins and candles would be most suitable in this kind of arrangement. Heavily draped table cloths wouldn't fit so well as compared to a light and simple table cloth to accent the light, romantic mood.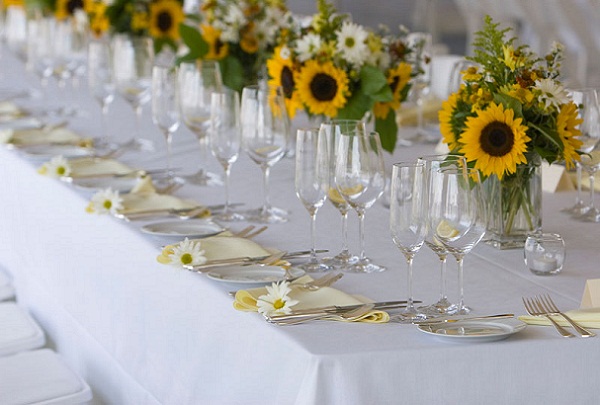 In longer tables, it is best to arrange a row of flowers instead of having one gigantic centerpiece to spread the effect. Flowers placed individually at the assigned seating arrangement also create a more intimate feel. With this kind of arrangement, it is best to keep the decorations simple as not to overwhelm the table. There will be a lot of guests sitting side by side and it is best to give ample room for them.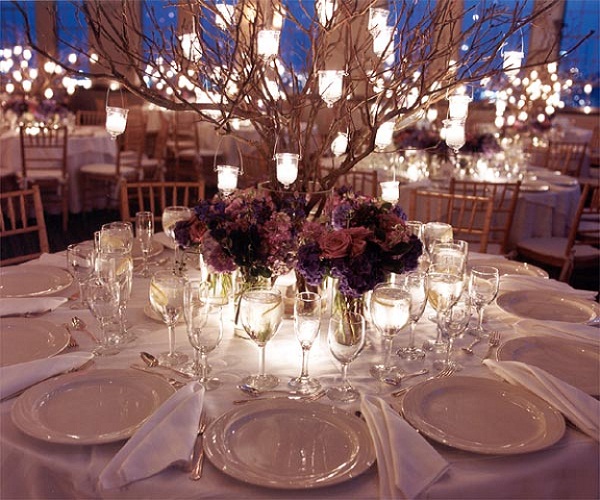 Other touches can also be added to augment the effect of the flowers. Here, the dried branches with the hanging candles give a symbolic image of the tree of life, welcoming the new life from the marriage union. It is not only symbolic but also very dramatic and whimsical. This kind of design would best suit round tables as they provide the perfect focal point. The soft lights emanating from the candles create a very picturesque scene.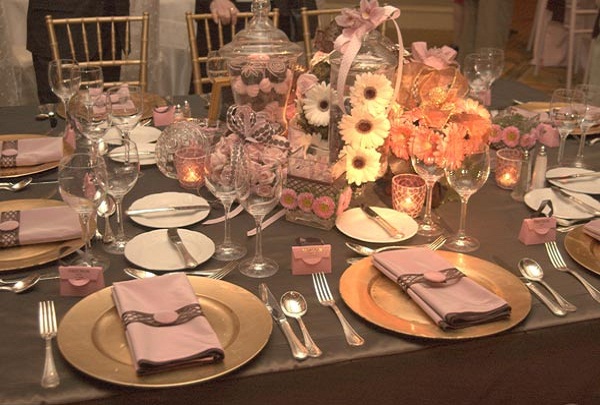 Flowers could also be arranged in a non-traditional manner to create a wholly different take on centerpieces. They can be placed inside cookie jars and wine glasses along with other sweet desserts. The set-up is very feminine and sweet. The best colors to match these would be pink, lavender and white as they give off the girly vibe.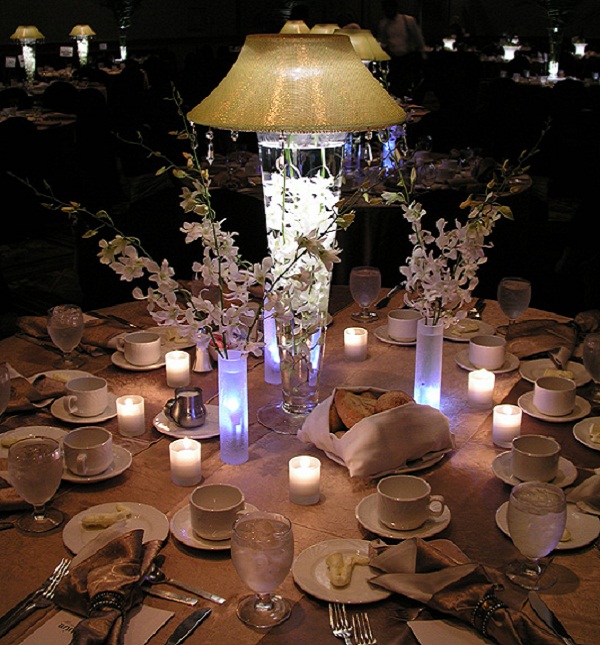 Some decorations could be very unconventional and created from non-traditional things. The exotic lamp effect gives an oriental feel coupled with the white orchids and candles. It is simple but very striking and unique.
Beach Wedding Table Decorations
Beach weddings are very romantic and dramatic. As such, there is no need to be so elaborate with the wedding table decorations. The best color combination for beach weddings is white and blue. This palette reflects the meeting of the sand, sea and sky.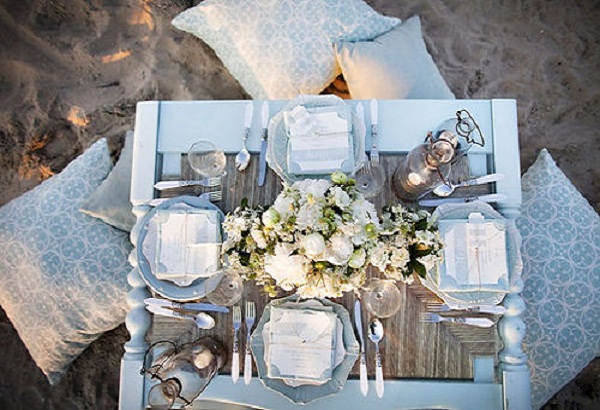 Beach wedding tables could be set low and allow guests to sit on cushions nestled on the sand rather than on chairs. A simple white bouquet of flowers as a centerpiece would suffice in giving the table a festive mood. If you are expecting to keep the party going until dusk, it would also help to place candles on the table.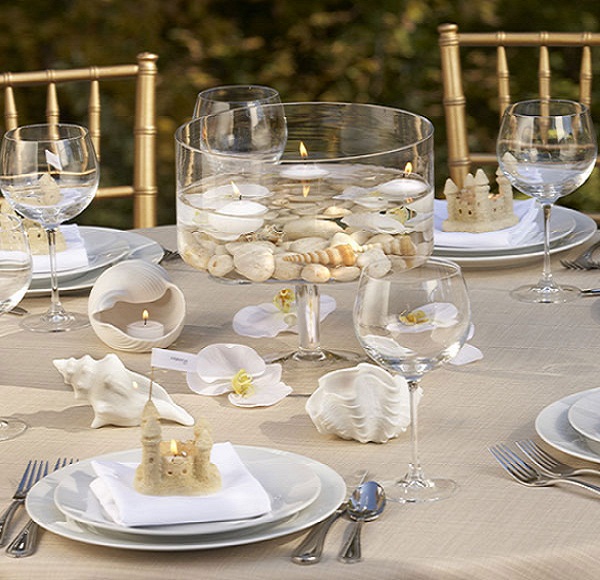 Instead of adding the usual flower pieces on your table, try a unique and inexpensive way of decorating your table. Seashells and sandcastles make beautiful beach table decorations. They reflect the freedom of the sea and add a nice touch in harmonizing the whole beach setting. Putting actual sand on the table may be a little tricky and could get messy so you can choose to find some alternative like a sandcastle candle holder. This could be a part of your table decoration and also could be given away as a memento of your wedding.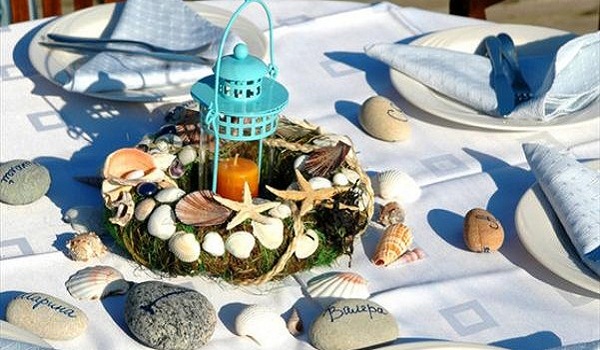 Beach wedding table decorations could be personalized from the resources found along the shore. Starfishes, pebbles and shells could act as petals being strewn on the table. Since these have a heavier feel than petals, you can use a smaller quantity to accent your tables. It is not only fun and creative, it also saves you a lot of money.
Wedding Head Table Decorations
Everyone's attention will be focused on the head table as this is where the bride and groom will be sitting. The head table should be able to showcase the newlyweds. Because of this, decorations on the head table should be low as to allow the guests to see the bride and groom.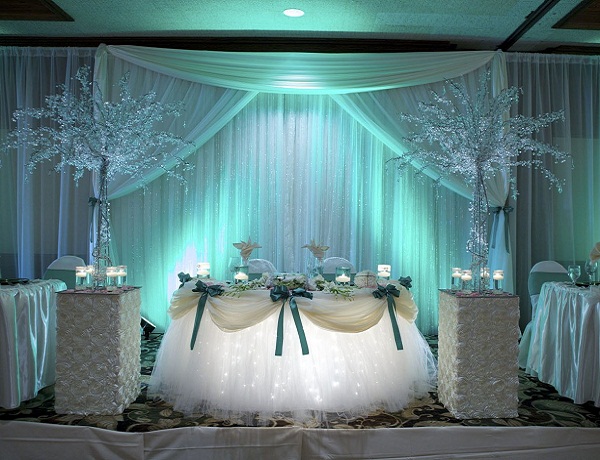 The head table should be dramatic and striking since this would be the center of attention of the guests. In this case, the lights on the table grab the attention of the viewers. Flowers can be placed on the table also but they should be low enough to keep the bride and groom visible. The more elaborate decorations can be found on the table's skirts and further accented by pillars at both ends of the table.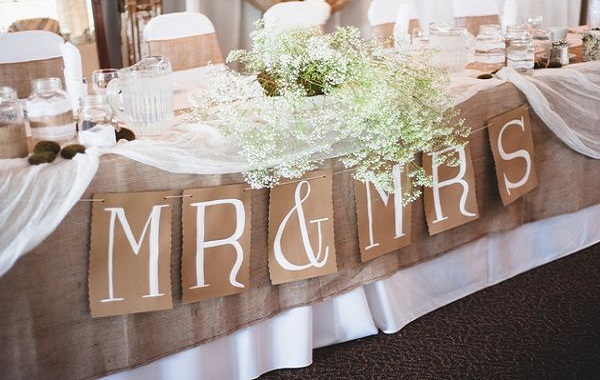 Because the decorations on the head table should be low, this should be compensated by a certain twist. Instead of looking for flowers that are low enough, a hanging plant with beautiful blossoms could serve as the centerpiece. To create an earthy look, rocks and jars filled with water could also serve as table decorations. Earth colored banner for the bride and groom finishes the whole look.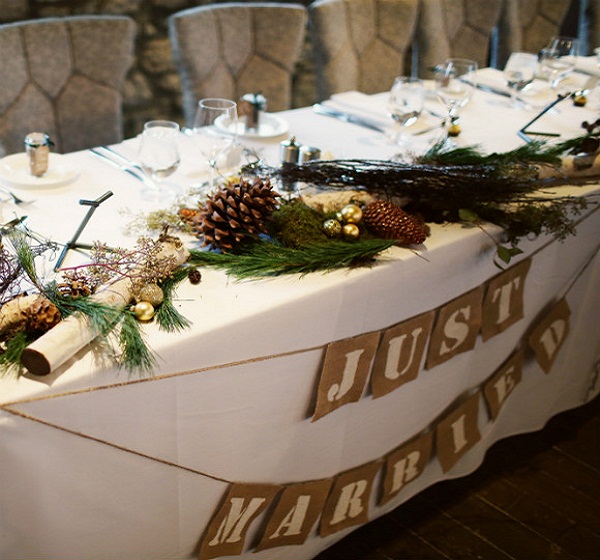 Seasons and holidays could also be used as an idea for table decorations. In this winter themed head table piece, pine cones and leaves serve as the decorations. They serve as great head table decorations because they are low enough and allowing the guests to wish the newly married couple best wishes.
Simple Wedding Table Decorations
Not everyone prefers elaborate and extravagant themes for their wedding. Some prefer to keep it simple yet very beautiful at the same time. Simple doesn't mean that it is plain. Rather, it is more of a clean-cut, minimalistic approach to table decorations.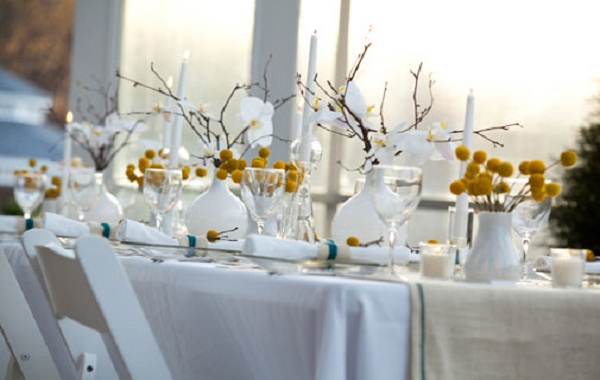 Going easy on the flowers keeps your wedding table decorations simple and neat. Ideal colors would be white with splotches of color. Here, the flowers are very minimal but accented with the twigs and the swatches of yellow.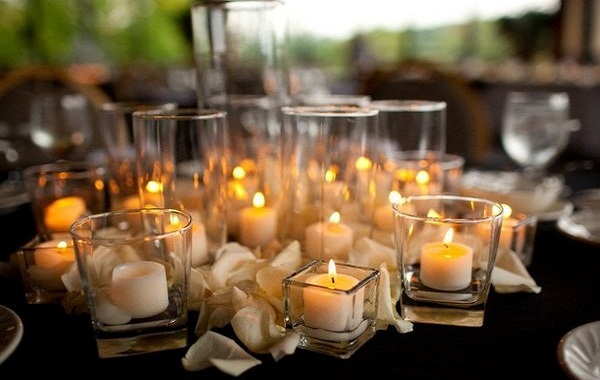 Candles, although very simple, could be very dramatic. By placing them inside different sized glasses, it gives a very simple but striking effect. The scattered petals also cover a bare looking table.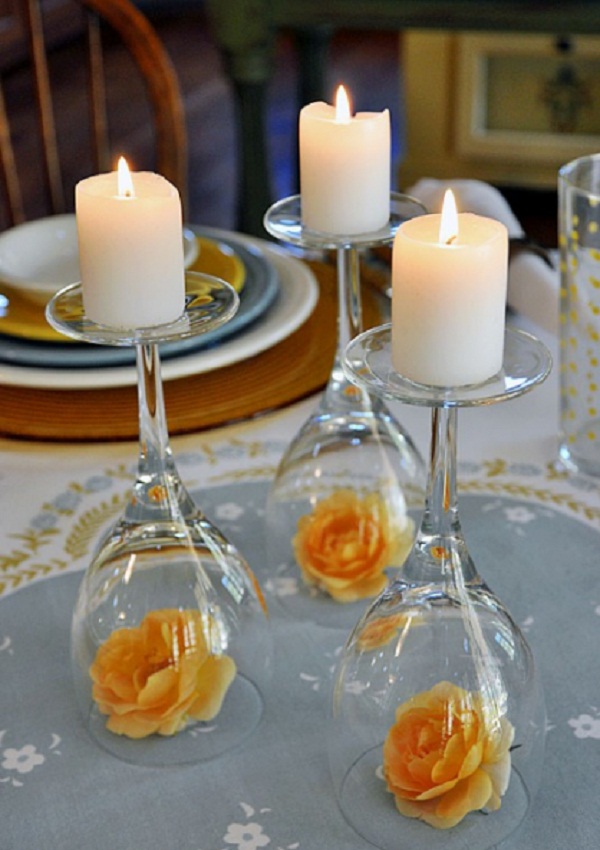 Simple designs usually channel the more creative ideas. A single rose placed inside an upturned champagne glass which serves as a candle holder makes a unique table decoration. The key is placing a proportionate number of this in relation to your table. Having too little could be too bare and having too much could clutter in a way that flowers wouldn't.
Vintage Wedding Table Decorations
Vintage wedding themes are often the most whimsical and poignant. They evoke emotions that touch us to the core. Vintage wedding table decorations are often the type that would make us remember of a time forgotten.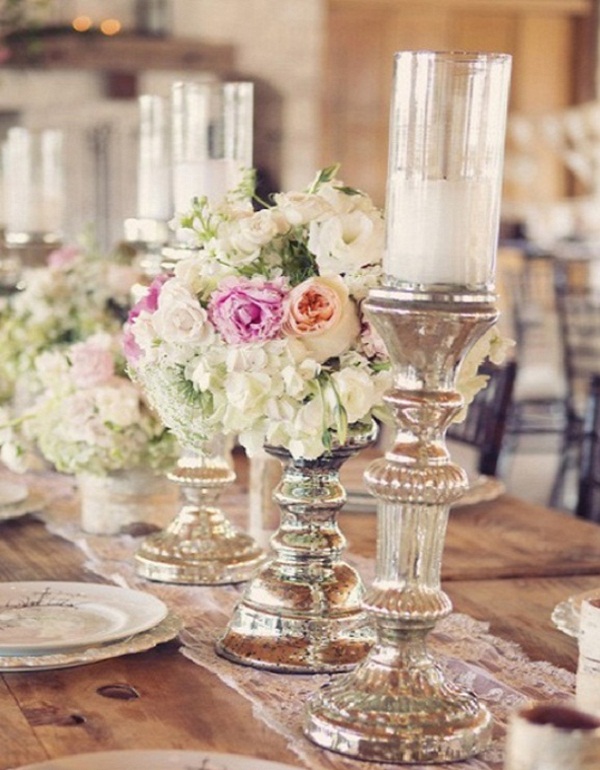 Vintage decorations are often very dramatic and yet the colors are not always the most striking. They often remind you of the old but beautiful memories. The full effect is achieved through the bare table with a smooth but rough finish and the old silver stand for the candles and flowers.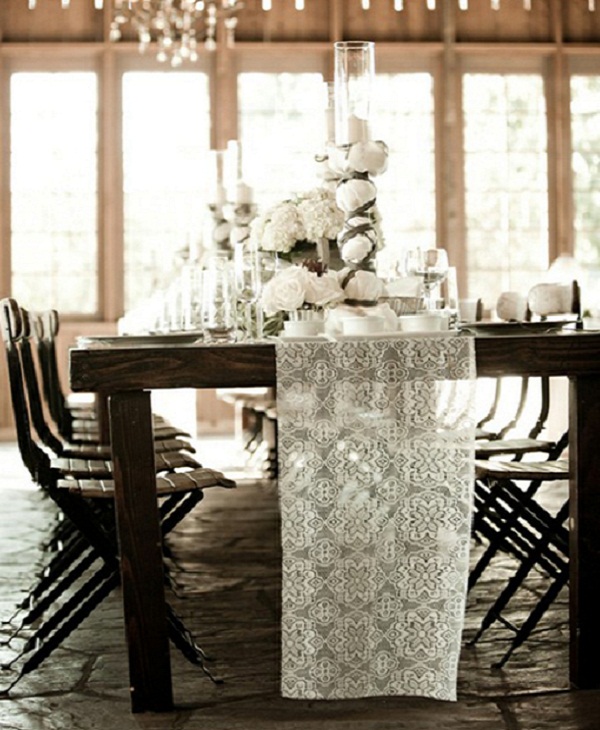 Vintage decorations are often very austere in terms of color but softened by touches of lace and white flowers. This is a beautiful symbolism that life is hard but it is also beautiful.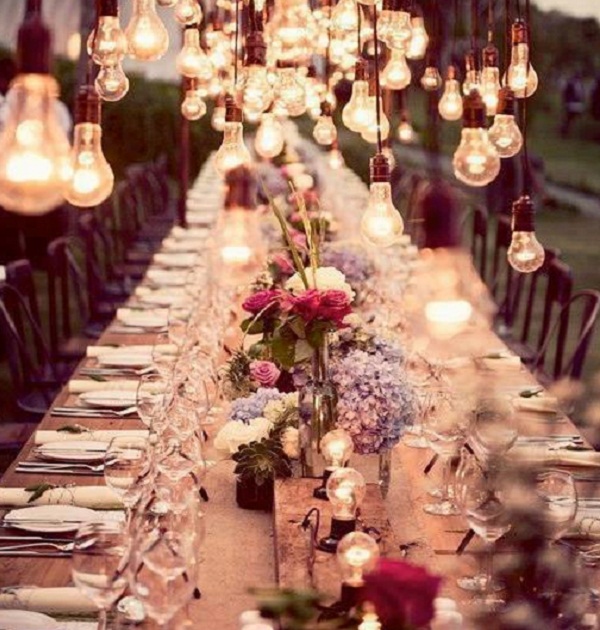 Beautiful and creative ideas could be incorporated in vintage table decorations. The use of light bulbs is very original and unique. It also highlights the beauty of the flowers in the way that vintage does – creating a contrast between hard and soft.
DIY wedding table decorations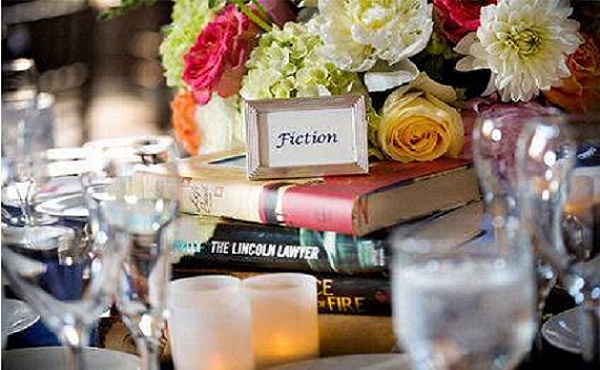 When you are on a tight budget, it is a good idea to have some DIY decorations. Piling old books and naming your table according to genre is a beautiful twist to your traditional wedding.
Adding photos are a nice touch to personalizing your table decorations. They are easy to prepare and easy on the pocket as well.
Purple Wedding Table Decorations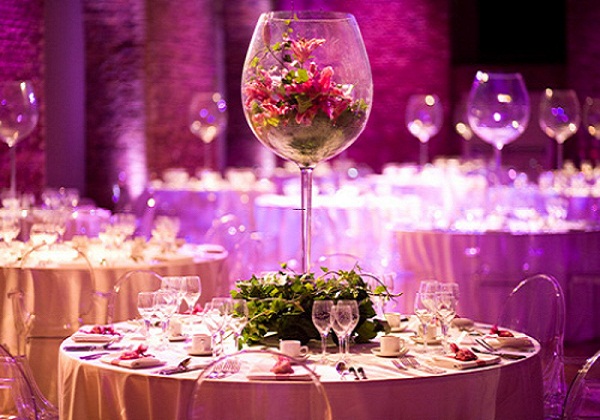 The color purple could be a very beautiful color for wedding motifs. Purple flowers inside a gigantic wine glass while purple lights reflect on its surface create a beautiful glow.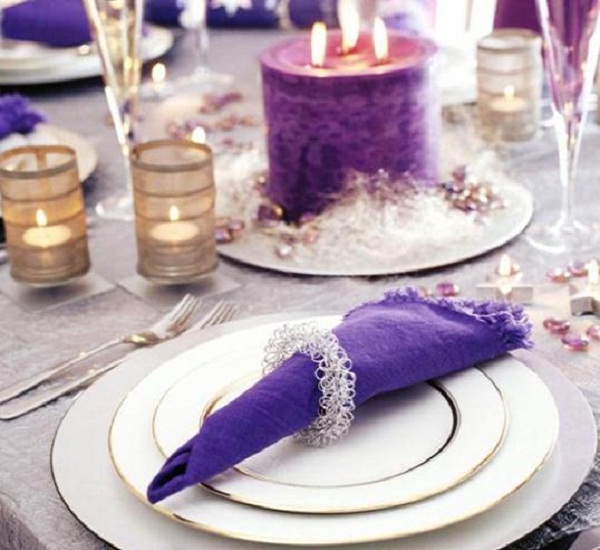 Wanting purple in your wedding table doesn't necessarily mean going all crazy about splashing all decorations with that color. Table napkins and candles with such a bright shade of purple will do nicely.
Inexpensive Wedding Table Decorations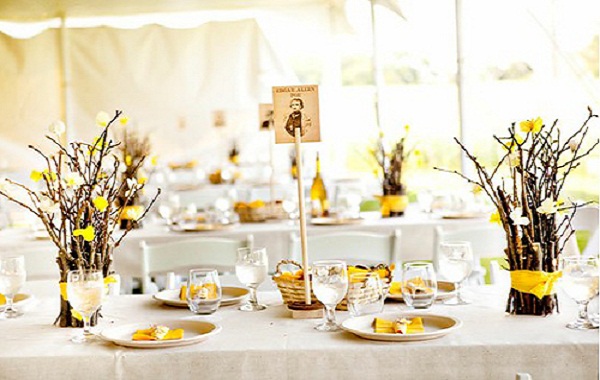 You don't have to spend so much on your wedding decorations to make it beautiful. You can create beautiful table decorations out of twigs and wrap them up in yellow ribbons. They can already serve as your centerpieces.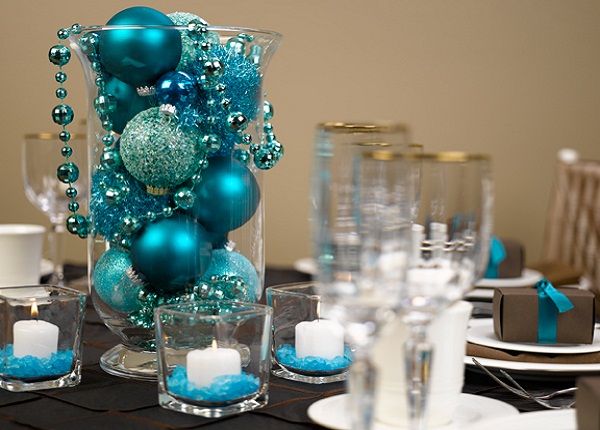 You can even use your old Christmas decorations to liven up the mood. Placing Christmas balls inside vases and adding candles around creates lovely inexpensive table decorations.
Outdoor Wedding Table Decorations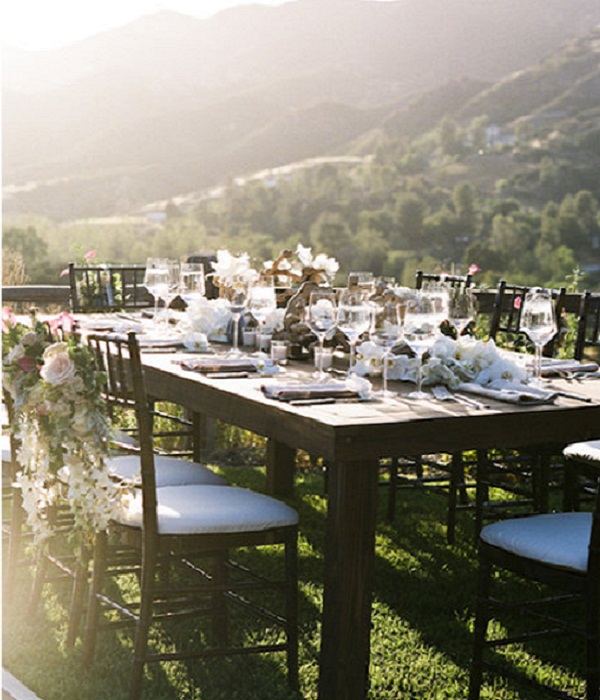 Outdoor wedding decorations need to be simple to highlight the beauty of the area. Flowers normally would be enough to decorate the table.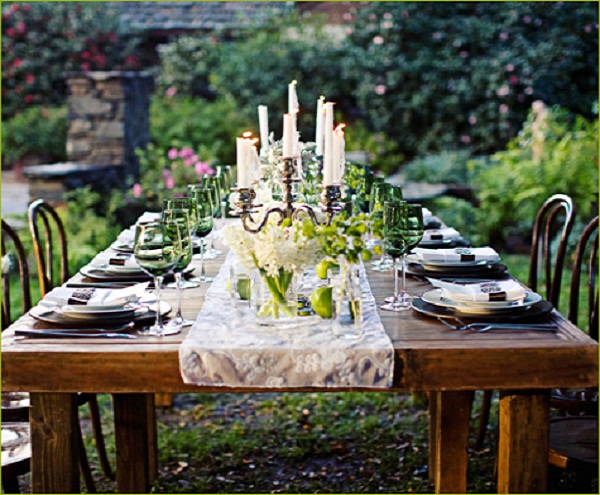 Outdoor wedding table decorations should accent the surroundings. That's why leaving the table without a cover is a popular choice in outdoor weddings. The effect is simple and poignant but very strong.