Indian celebrations are not complete without Rangolis. Diwali is the most anticipated Indian celebration and hence people wait for it every year. Diwali traditions differ in different part of the country but one thing is common in all households on Diwali and that is Rangolis . What are Rangolis? Rangolis are floor designs and patterns drawn using colors, colored sawdust, rice powder, flower petals and chalk. The designs vary from one part of the country to another but it is very much a necessary part of the Diwali tradition. Diwali rangolis range from super simple designs to complex designs. Today we present some of the designs for Diwali: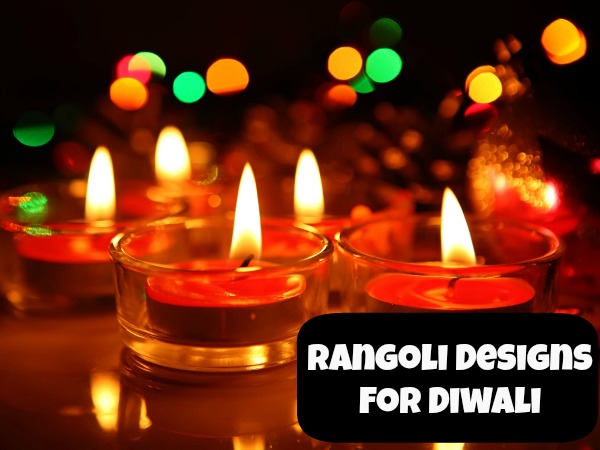 Round Diwali Rangoli Designs:
Round rangoli designs are quite popular and are easy to do . These designs are seen throughout india and are widely used. These designs are traditional and can be manipulated to make into modern designs easily. Being round, these are quite easy to do on a first try too.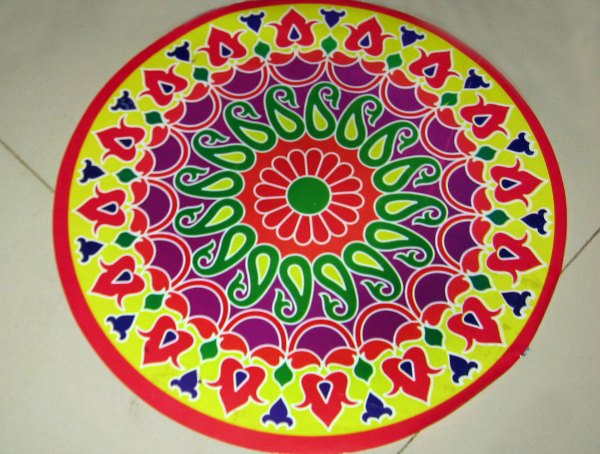 This bright round Rangoli designs for Diwali looks spectacular with lots of bright, attractive colors. Yellow, orange, red, green and purple has been used in the design . The design has lots of different geometric and traditional motifs used.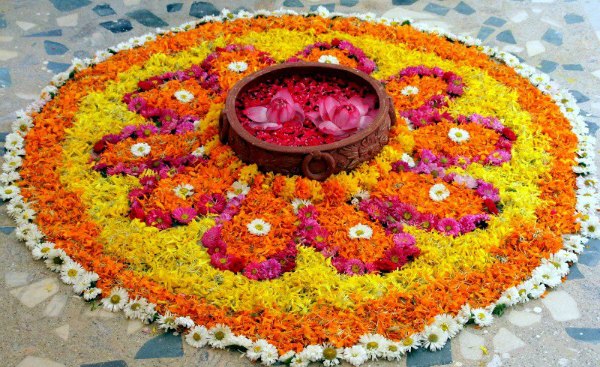 If colors are not your forte, use flowers and flower petals to make your rangoli. Diwali rangoli designs with Flowers are quite popular in India. Using flowers make it easy to correct mistakes rather than colors. Mostly flowers which are easily available are used like rose, marigold , lotus and more.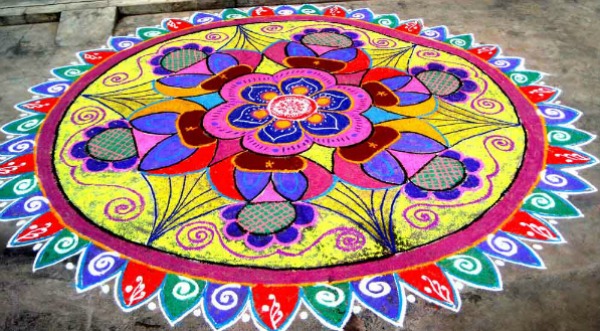 this bright neon round rangoli design looks pretty as well as attracts lots of attention. The bright neon yellow, pink and blue shades keep the rangoli bright. The flower designs in the middle and lots of small and intricate motifs make it a complex rangoli.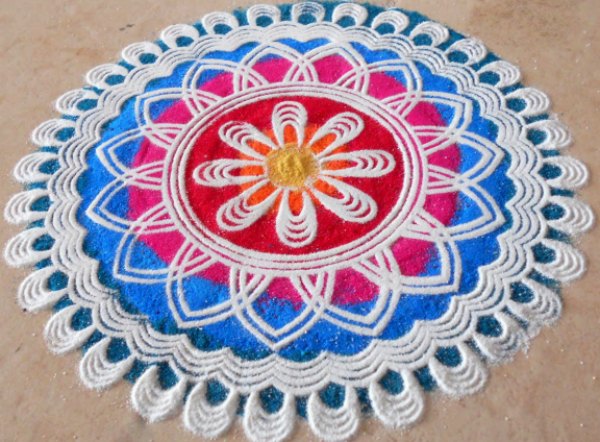 This bright multicolored rangoli uses sand colors . The technique used to do the white designs and details are called as a 'Cone technique' . usually a paper cone is made and filled with white sand, then a small hole is mad which is controlled by the finger to draw the designs. The hole's width can be altered to make the lines appear thicker or thinner.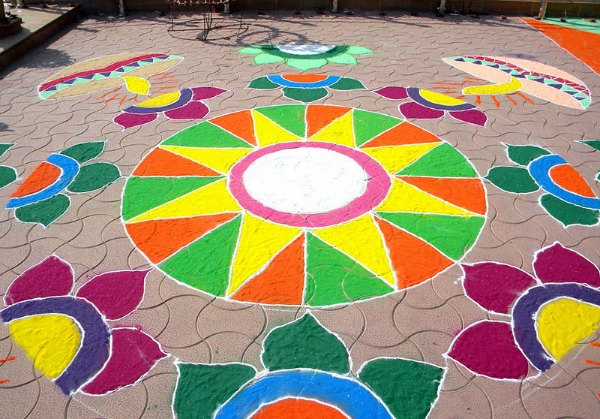 This easy and colorful rangoli design is simple for any beginner to do and can be done without much problem. The colors used are bright and a white border makes it stand out. Flower patterns and Diya patterns on the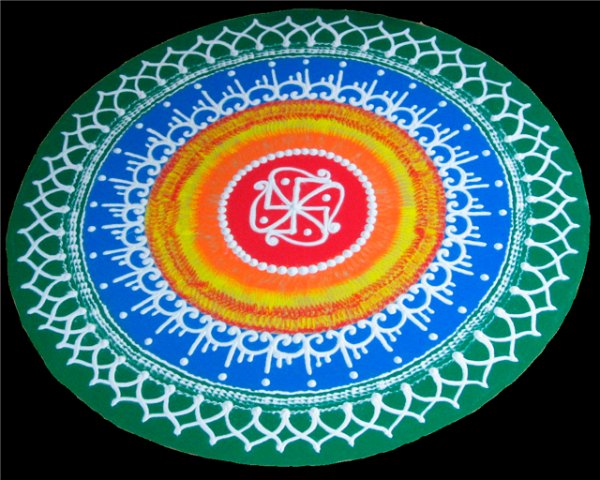 This round rangoli design has a swastika motif in its center. The swastika pattern is considered very holy and is used for all traditional worships and occasions . The bright colors go well together and the bright orange centre make it more attractive.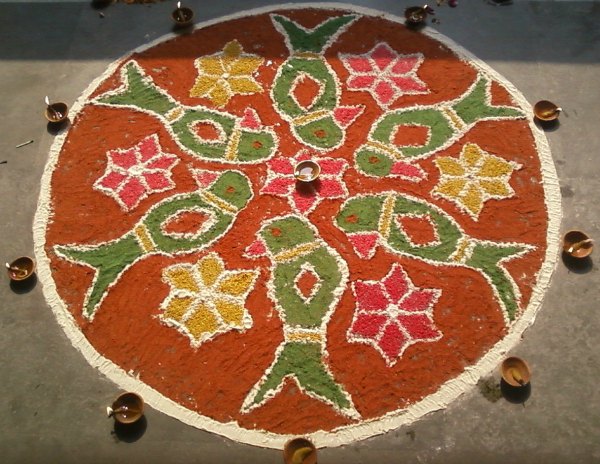 This round kolam rangoli design is very easy to make and requires very less practice . The small flower shapes are very easy and can be drawn by anyone and the small fish patterns are also quite easy. Real Diyas are added to enhance the beauty of this rangoli.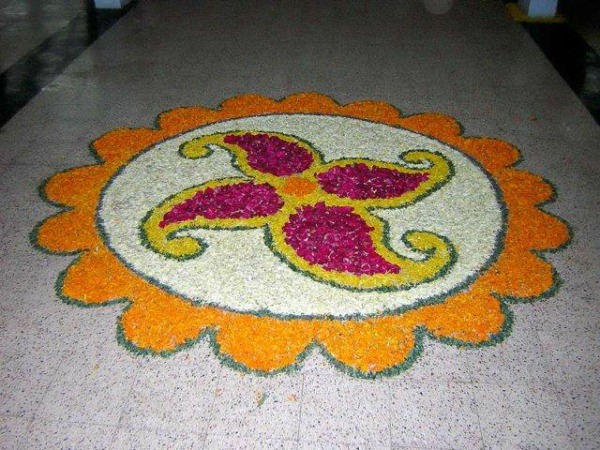 This flower rangoli design is very easy to make and if you are planning to do a fuss free and easy flower rangoli don't look beyond this design. This flower rangoli design is simple with a floral outer pattern and uses common flowers to make the design.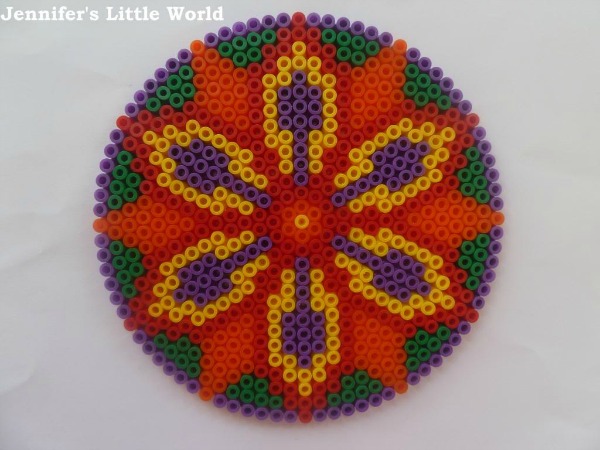 Hama beads are used here for the purpose of making this Rangoli. If you want your rangoli to stand out try making yours with Hama beads. Though you will require more time than normal to make these patterns using Hama beads it will surely be worth the wait.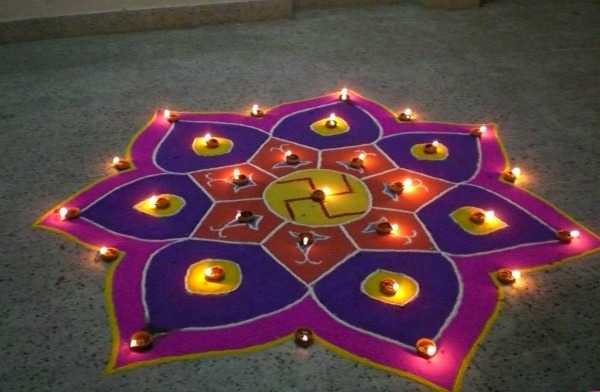 this flower shaped simple rangoli designs are bes for any occasion. For Diwali diyas can be added too. this bright pink, blue , red and yellow colored rangoli is surely attractive. The swastika motif in the middle make it a perfect choice for Diwali.
Kundan Diwali Rangoli Designs:
Kundan rangoli Designs are relatively new and are really becoming popular with Indian rangoli makers. We have a few designs that we want to share with you.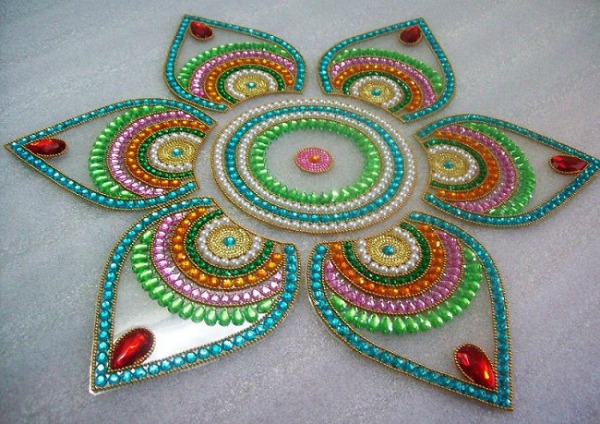 This flower shaped kundan rangoli design uses so many-colored beads, crystals and pearls. The circular design in the middle with beads, crystals and pearls are surrounded with petal like shapes made using large rhinestone in red and smaller crystals in green, blue, pink and orange.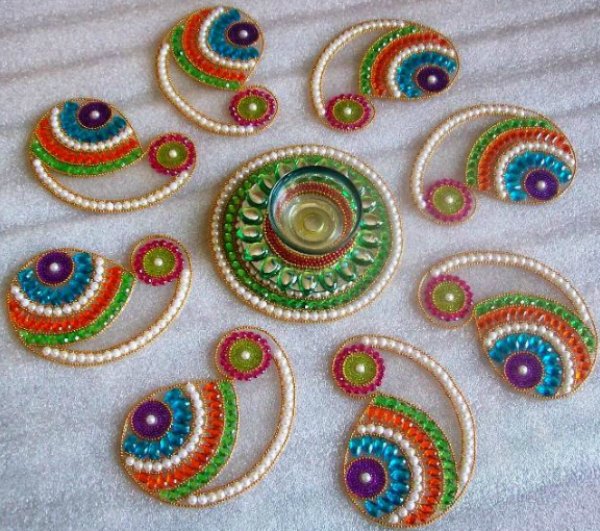 This paisley kundan design is very pretty and looks perfect for Diwali. The design in the center is made with green and gold beads and green crystals. The paisley designs are made with beads, rhinestone and crystals in multiple colors.
Ganesha Diwali Rangoli Design:
Ganesha designs are a hit at Diwali and many people believe that Lord Ganesha will bring prosperity and good luck to their household. This is why we have some really pretty Ganesha inspired Diwali Rangoli designs to inspire you: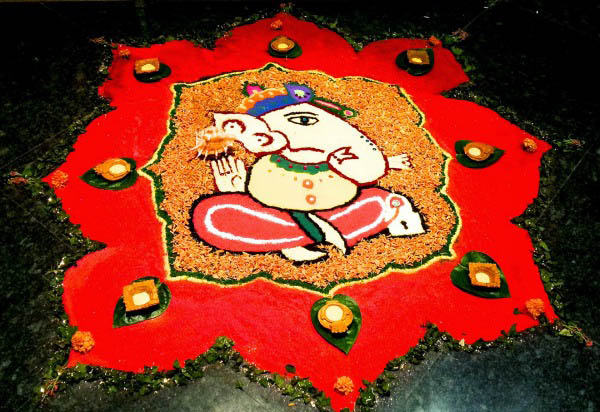 The Ganesha design here is very pretty and is quite complex for beginners. This design will require rangoli making skills for the perfectly done Ganesha design in the centre. There is use of colors as well as flower petals for this particular rangoli. Some small diyas are also used for the design to give it a Diwali feel.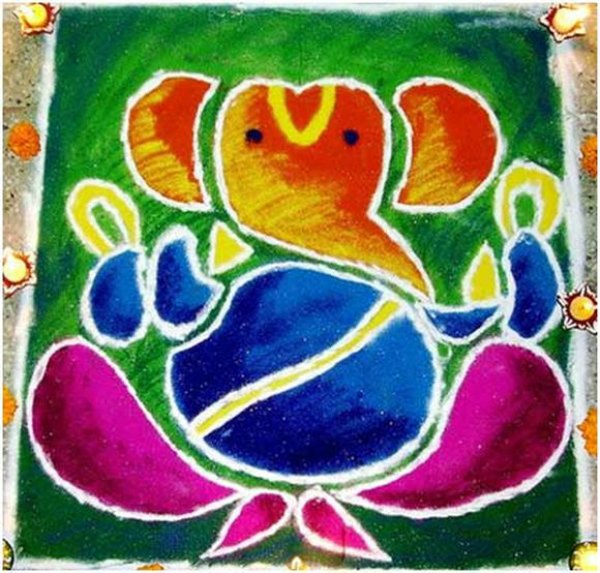 This brilliantly done shaded rangoli design is perfect if you would like to add some colorful touch to your household. The dual tones used here for shading makes the design look three-dimensional. Some diyas are added on the sides too. This design can be done anywhere to brighten up the floor.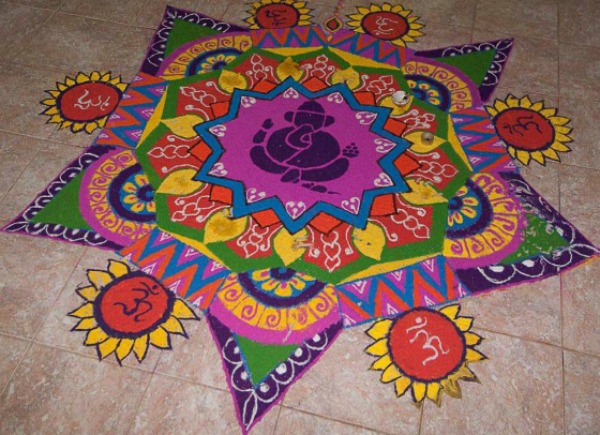 If you would like a colorful rangoli with Ganesha inspiration choose this multicolored one. It has so many loads of attractive colors used and also has 'Om'  designs done on each sides. The design has many small details which will require lots of patience and experience.
Peacock Diwali Rangoli Design:
Peacock inspired rangoli design are one of the most sought after designs . The beauty of the national bird of India has most often inspired artists as well as been the inspiration for som many beautiful creations inspired by them. Here we have some beautiful peacock inspired designs to consider:
If you are confident about your rangoli making skills then try this complex Peacock inspired Diwali rangoli design. There is various shades and shading used to mae this design which requires lots of rangoli making experience.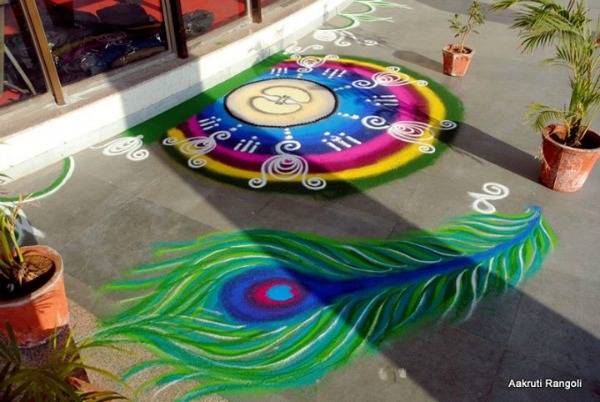 Colorful rangoli can make any dull space become vibrant and this one here is just the type. The colorful round designs at the side and the large peacock feather design on the side make for great choices.
This peacock inspired rangoli design is very colorful as well as simple. You can use rangoli colors or draw it using floor colors too. Various colors are used for this rangoli to make it very colorful.
Semi Circular Diwali Rangoli Design:
Semi circular designs are unique and are very rarely seen. these designs are perfect to make at your house/apartment entrance and at the sides of a lobby. These are a few designs we want to share with you :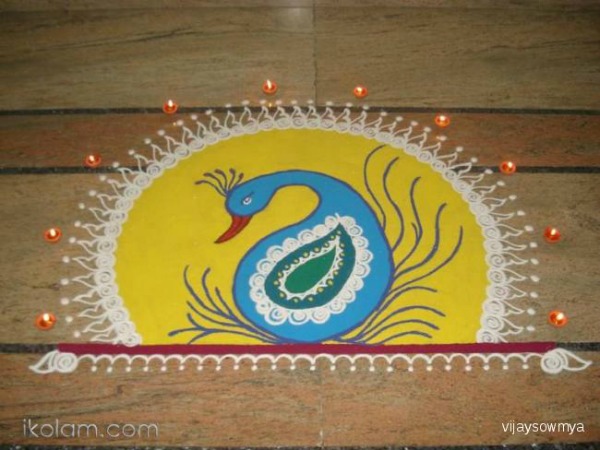 This peacock inspired rangoli design is an easy way to add color to your house entrance/ lobby. The bright blue and green shades used for the peacock design goes well with the yellow shade used for background. The small diyas used on the sides complete the design .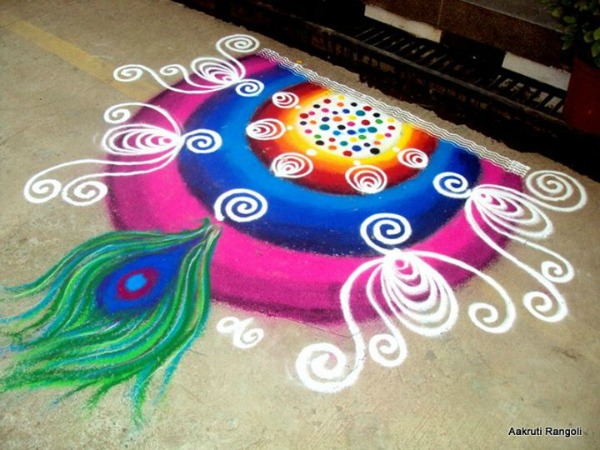 Another peacock inspired semi Circular Diwali Rangoli design is presented to you. The design here is simple and bright. Bright shades of pink, blue, yellow and red are used. The Peacock feather design is the main attraction of the design.
So these were some of the Diwali Rangoli designs we liked. Do let your creative side take its own course while drawing rangolis and feel free to use any of our designs as references. Diwali is one of the largest festivals in India and it's the perfect time to dress up your home or community with a colorful rangoli.