There is no dearth when it comes to look for avenues to explore art and let out one's creative genius. As humans, art in all forms, at all places and in all its various ways of expression and show has had us intrigued. Art is the base of many of modern industries and has given us some of the finest artists. Art has also been used to adorn and beautify the human body in more ways than one. People from ancient times have used color, designs and patterns on the body to make it look more attractive and give it a uniform look. One such art form is the use of nail lacquer by women across the globe for the nails. While ancient women used henna to color their nail tips, today we have nail polish in a whole range of colours that serves this purpose.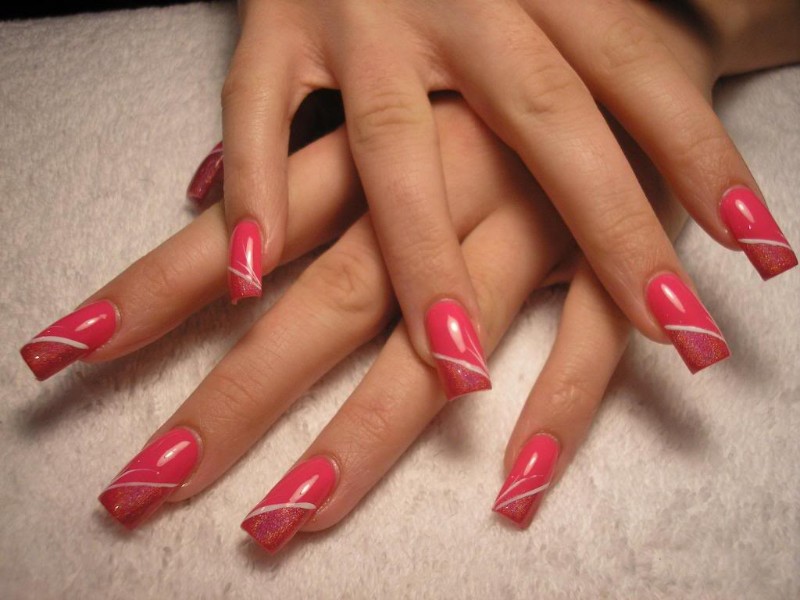 With changing times, people have found new ways to make and add a new look to the existing way of colouring nails. Nail art has become the norm of the day. With minimal investment and a little creative streak and genius, one can easily have some beautiful and easy nail art designs at home. With the changing times and easy availability of nail art kits one can at any time, do nail art at home. This would serve a dual purpose, one is that of cost saving and another is that of having the option to choose and experiment with the design one wants to have and keep. However, there are a few simple tips to keep in mind:-
Make sure you sit down with patience and time
Nail art requires creativity and delicate handling of nail art materials
Pay attention to smaller details
Be cautious and explore for designs each day
There is no dearth of designs, patterns and ways to do nail art. If one is going to do nail art for the first time, it makes sense to start with some simple and easy nail art designs for short nails before you graduate to more complex designs. Sharing here a few designs that you can start with and experiment it at home.
Here is a simple and minimalistic design that anyone can do at home without any specialized tools or kits. All you need is an existing range of nail colours that would look nice together. Try a simple base coat of transparent nail polish and let it dry. You can buy simple white strips from market to cover the base coat and apply the coloured line with care, one at a time and make sure you let it dry. Once it is dry, paint a coat of transparent nail colour again to seal it. Make sure you dry it well for longer stay and keep it looking good.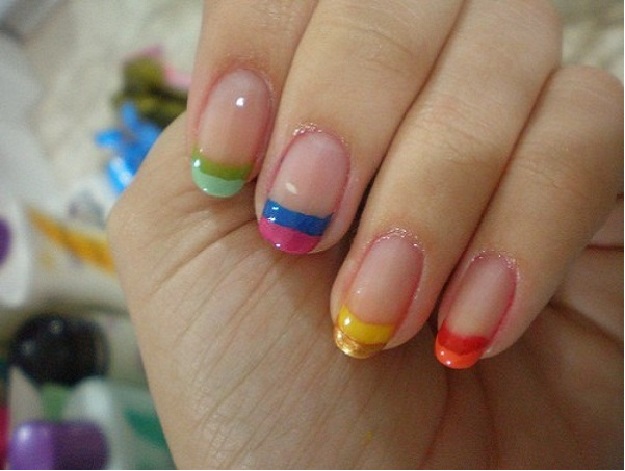 Given below is an easy nail art designs for beginners if you want to stick to basics and be able to blend some colours. You can select two or three colours of the same shade and based on your choice. You can stick to same shades for a better colour layout or if you are willing to experiment, you can use colours in contrast. Apply the base coat of colour you want at the bottom, towards the nail root, first. Then put a transparent tape on the area you want to keep for base coat and apply the next color coat and in the same manner proceed towards the third base. Apply a transparent coat to seal the design and keep it intact. Simple, quick and easy to do!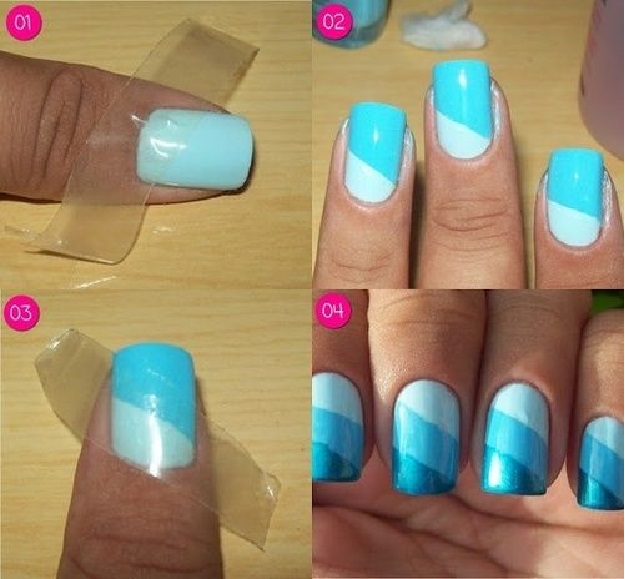 Given below is a simple pattern that can also be seen as an easy nail art designs for kids to try at home. While they might be more enthusiastic about their new passion, they would also be willing to take risks and experiment with colours and designs of all kinds. Kids and adults can try the below design alike. All it needs is a small spark of imagination and creative streak. Use two contrasting colours and apply the coats like below. Then use the nail brush to create a pattern of dots like below or any way you would like to have designed on your nails.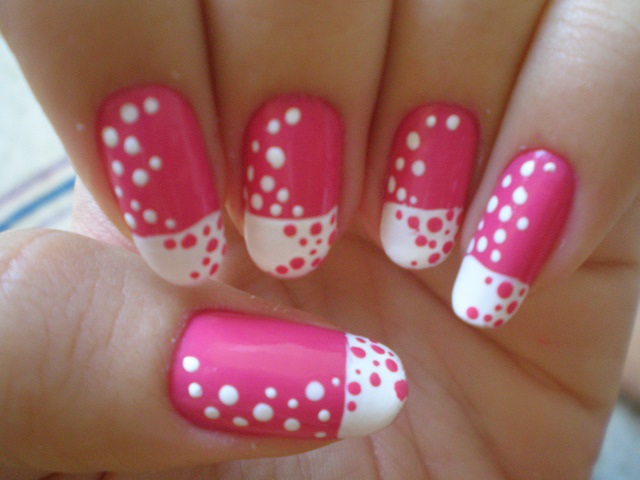 Once you have mastered these easy to do nail art designs, you can look towards a little more design, mix of colours and designs. Given below is a simple and yet at the same time a little more complex design to experiment and try at home. You can see that the strips are cut in straight lines, you can cut the strips in any pattern you would want to have on your nails. Apply a coat in base color and then stick the strips at equal distance and apply a coat of another color of your choice.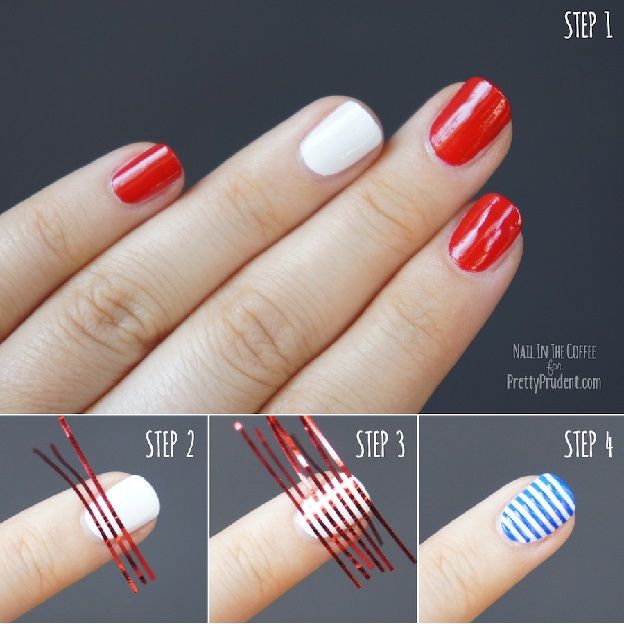 Once you have mastered the simple strokes, it is time to progress to a few more tools and designs like a nail paint, accessories and maybe use a nail brush or uses simple pins to make small yet intricate designs. You can use the nail paint brush to make some patterns on nails much like a pencil on a canvas. There is no limitation to the kind of design you can have or the way you want to paint a pattern that will appeal to you. The use of nail brush is a great way to explore your creativity, and obviously patience to get it right. One can easily get these tools as a part of one's nail art tool kit.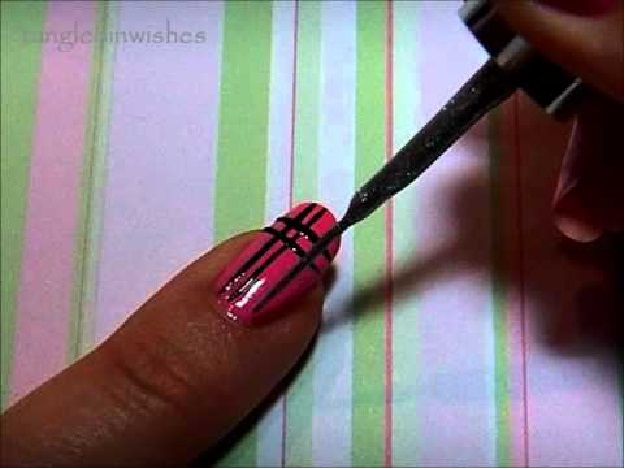 Once you start using and making more complex designs, you will understand you can use accessories as an extension to your nail art. One can easily get the accessories in the market in various designs and kits for nail arts, also one can use any easily available small item at home for nail art. For example, let us say the Indian bindi with transparent design in the smallest diameter can easily be used for simple design. Try this simple design by having two colours on your nail as we discussed above and mark the line that sets the two apart with small transparent Bindis. It is an easy way to accentuate a simple design.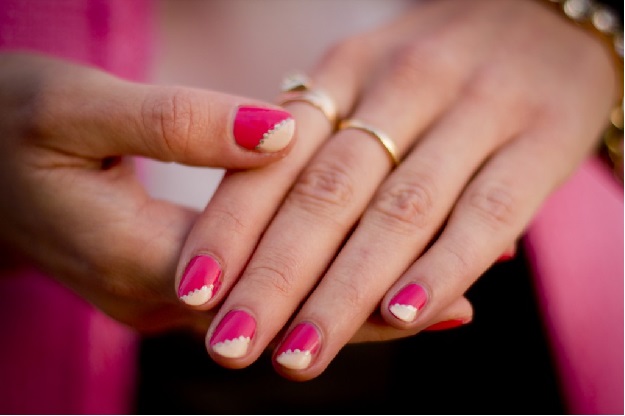 Once you see and make the above designs, you can progress to something like below and add more and more accessories in different ways and designs to make your nail art more appealing and attractive to all.
If you are on your creative streak and able to manage color and designs, you can make various designs with all kinds of tools at your disposal or use your nail art kit.
Unlike hands, however, our toes are not all the same and hence they need some easy nail art designs for toes, that especially focuses on the creativity to be explored on the big toe. Try these few designs at home to bring all your toes with the same design and make them look as beautiful as your finger nails.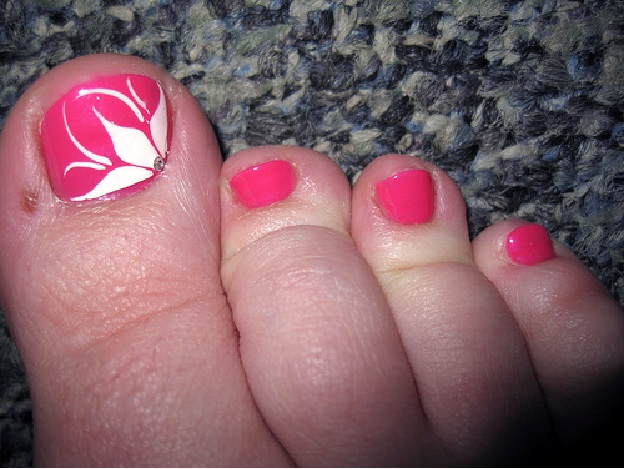 Try this simple design in pink and white contrast and there is no reason you can go wrong. You only have to make a floral pattern on the big toe to add a beautiful look to your toes. Delicate and beautiful toes in no time!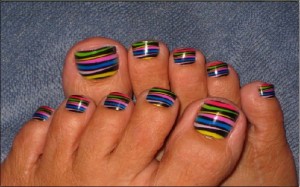 If you are willing to experiment a little more with designs and patterns and want all your toes to have some beautiful nail art for toes, try the design below with a whole range of colours across all your toes. It is a simple and easy way to use the strips to get a whole range of beautiful lines of colour.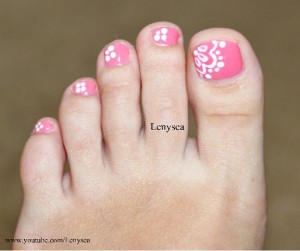 Now that one has been and seen through so many designs and patters, one can try new and more complex designs to add a nice and elegant look to one's nails and be ready at the drop of a hat for an occasion. The colours are bright and design is easy to master. Paint your toes and get ready on the go.
While nail art is slowly growing across locations in its form and gaining acceptance, you can also enrol for specialized courses if it appeals to your senses and appeals to your creative streak. Nail art can be a great entrepreneurial debut for anyone looking for a personal venture. Explore the world of nail art and get as much information as possible and start learning to know what else you can do. There is no dearth to the avenues one can explore when it comes to any art and design form. People love to look beautiful and no one is willing to take the plunge to explore their creative side. Feel free and try these nail designs at home on your own and you  might find a new hobby or set yourself on a path of creativity and help others learn about this simple yet subtle way to express art and experience it each day, without too  much of an expense and time investment.