The chicken breast is the most versatile, lean meat you can include in your meals. There are a variety of ways to make chicken breast- stuffed, crumbled, baked or stir fried. Chicken breast contains 182 calories and 4 grams of fat. The simple techniques to cook breast chicken include pounding, stuffing, grilling, marinating and pan-frying. You can also add chicken breast to your sandwiches and soups. Here are some simple recipes to incorporate chicken breast in your diet.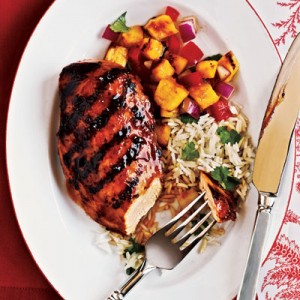 Hawaiian Chicken from myrecipe.com 
Hawaiian Chicken is a delicious and flavorful dish. The combination of pineapple juice, soy sauce, ginger and ketchup gives a unique taste to this popular dish. These ingredients not only act as a marinade, but also as a baste for the chicken. Serve it with rice and green beans for a tasty meal.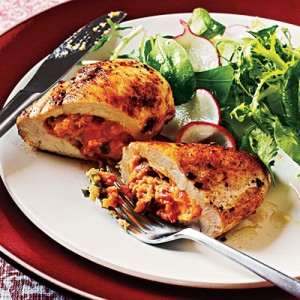 Pimiento Cheese Chicken from myrecipe.com 
This is the tastiest recipe you can try with breast chicken. Stuffing chicken breast with pimiento, cheese and canola oil gives this dish an amazing taste. Stuff the chickens and refrigerate it for a few hours before cooking it. You can also sauté zucchini or summer squash to serve as an accompaniment.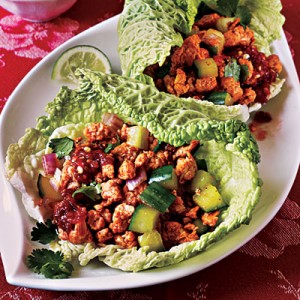 Chicken Larb from myrecipe.com 
Larb is a Thai dish, which makes a great appetizer. It is mostly made with the meat of duck, chicken, pork, beef and even mushrooms. This recipe can be made with simple ingredients found in the kitchen. The meat is flavored with limejuice, shallots and other seasonings.  Process cooked boneless chicken breast with cabbage, curry paste and spices. Pureeing them together will permeate the meat with flavor. Prepare chicken larb for a simple meal on warm Sunday evening. This recipe can be made with simple ingredients found in the kitchen. The dish is usually served at room temperature with boiled rice. You can also pair larb with vegetables. The spiciness of chicken will work really well with crunchy vegetables. You can also serve larb in lettuce cup in your kid's parties.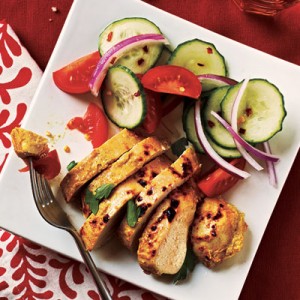 Tandoori-Spiced Chicken from myrecipe.com 
Tandoori chicken is a very famous roasted chicken dish prepared in India and Pakistan. The name tandoori chicken comes from a clay oven, locally called tandoor in which the dish is prepared.  The tender breast pieces are marinated in yoghurt, ginger and spices. The marinated chicken is left for 8 hours and then grilled on a tandoor. Marinating the chicken adds to the flavor. Add cayenne pepper, red chili or Kashmiri powder to give it a bright red color. Tandoori chicken goes best with Biryani, chutney and naan.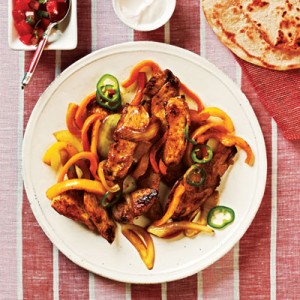 Chicken Fajitas from my recipe.com 
Fajita is a famous Mexican dish full of color and flavor. Serve fajitas with sautéed peppers and tortillas for an appetizing meal. Fajitas were traditionally made with grilled steak, but are now prepared with chicken, shrimp, prawns and many other kinds of meat. Cut the chicken meat in thin horizontal pieces and marinate in pepper powder, jalapeno and other spices of your choice. Using a grilling pan will give you your fajitas a charred effect. Keep the ingredients moving so that nothing burns.  However, you can also use a large pan or a wok to prepare your fajitas.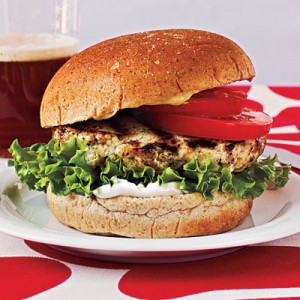 Chicken Burgers from myrecipe.com 
Chicken burgers are healthy, flavorful and delicious. Combine chicken with salt, pepper, capers, shallots and pepper and process in a food processor. Shape the mixture into patties, cook in a grill pan and serve between two slices of buns. Serve the burger with tomato ketchup, cheese and potato fries and eat to your heart's content. Chicken burger is much healthier than beef burger. Chicken contains less fat and is quite high in protein. Choose a hot pepper seasoning to give your burger a spicy kick. Using ginger and soy sauce will give the burger a punch of strong flavor.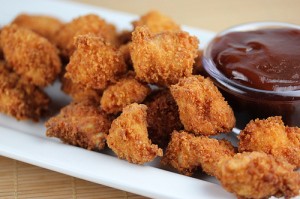 Popcorn chicken from blogchef.net 
The golden and crunchy chicken popcorn is one of the most popular dishes among the non-veg lovers. This flavorful snack can be prepared at home with minimal effort. Popcorn chicken is a smaller version of chicken nuggets, seasoned with flour and breadcrumbs. Chicken popcorn will make a great snack, appetizer and quick meal. Coat it with your favorite seasonings and serve with hot sauce.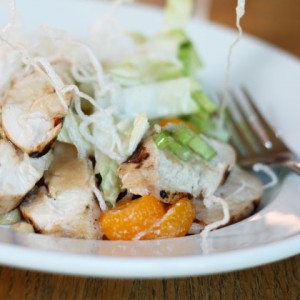 Asian-Style Chicken Salad from spoonful.com  
Chicken salad is a universal offering at the deli counter. This tasty salad contains a refreshing combination of ingredients to satisfy your taste buds. This chicken salad combines peanuts, oranges and cabbages for a tasty treat. You can replace the cabbage with lettuce, especially if you are serving it to the kids. Besides providing a strong punch of flavor, this salad also provides a whole lot of nutrients. Serve it with egg salad or sandwiches for a hearty meal. You can also add different kinds of nuts, fruits and spices to create your own version of Asian style chicken salad.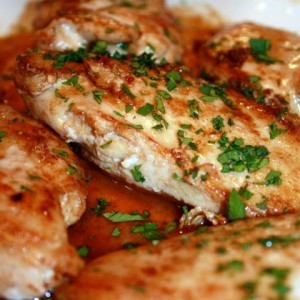 Basic Sautéed Chicken from spoonful.com 
This is the most basic and easiest of all chicken recipes. It is a perfect 30-minute meal solution and is ideal for the busy weeknights when you get little time to spend with the family. Sautéed chicken is cooked in a small amount of oil or butter on high flame until they turn golden in color. The cooking retains its delicious texture and flavor. There are many other variations of sautéed chicken you can try. Serve this savory with sautéed vegetables and green salad for a wholesome goodness.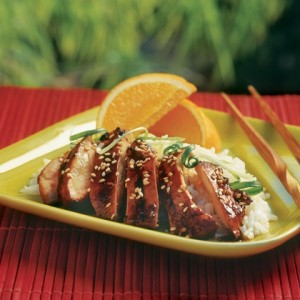 Teriyaki Delight from spoonful.com 
Teriyaki is a cooking technique used widely in Japanese cuisine. However, the technique is now adopted in various restaurants around in the world.  The boneless chicken is broiled or grilled with sugar, soy sauce and mirin. Prepare a homemade teriyaki sauce for maximum effect. The chicken is dipped several times during the cooking process, which gives it a shiny effect or glaze. It is then garnished with green onions and sesame seeds.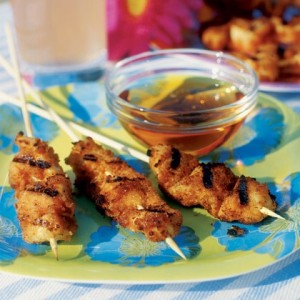 Chicken Fingers on a Stick from spoonful.com 
Chicken fingers are prepared by dipping the strips in breadcrumbs and are further deep-fried. You can also make it with egg batter for a smooth texture. These tasty treats are crisp outside and moist inside.  Marinate the chicken early to avoid last minute fuss.  It is often served in the Chinese restaurants as an appetizer or main dish. Present it with your favorite dipping sauce like ketchup and honey mustard sauce. Serve chicken fingers along with French fries, sandwich or salad.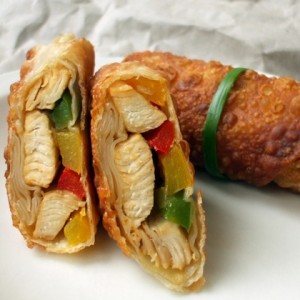 Chicken and Pepper Egg Rolls from spoonful.com 
This is a delicious egg roll wrapped with onions and pepper. Make it for the Sunday brunch and your family will love you for it. Calorie conscious people can also bake the roll instead of frying.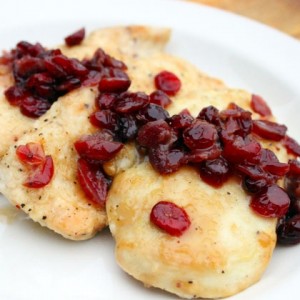 Cranberry Chicken from spoonful.com 
Cranberry chicken is an incredibly delicious dish. The healthy berry provides both sweetness and tartness to the chicken fillets. You can also add Dijon mustard sauce for a tangy taste. This recipe will taste great at any time of the year. Cranberry chicken pairs best with rice and sautéed vegetables. This easy to make chicken is ideal for parties and get together.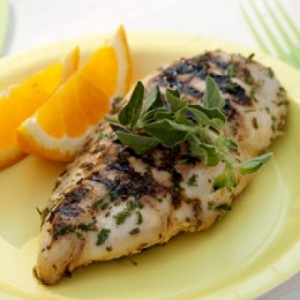 Citrus Chicken from spoonful.com 
Citrus chicken is one of the most popular chicken dishes. The chicken is moist and full of tangy citrus flavor, while the exterior is crisp and golden in color. You can try different methods to prepare citrus chicken. You can grill, broil, sear and even bake in the oven. Citrus chicken tastes best with Brussels sprouts and French bread.  Marinade the chicken with the spices and citrus juice and let it sit for 20 minutes. The delightful addition of oregano will give it a unique blend of flavor. Moreover, the best part is that it will not keep you long in the kitchen.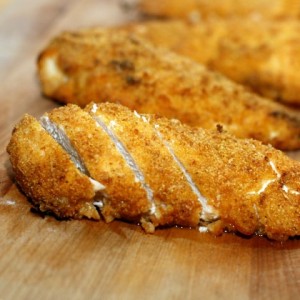 Oven-Fried Chicken from spoonful.com 
Did you know that the crunchy and crispy chicken that we enjoy in KFC could be made at home as well? Yes, you read that right. Oven fried chicken is an excellent alternative to fried chicken. It tastes as good as the fried one. Marinate the chicken with spices, buttermilk and leave it for some hours. A light coating of flour and breadcrumb will give it a crunchy taste. Oven fried chicken is ideal for picnic and parties.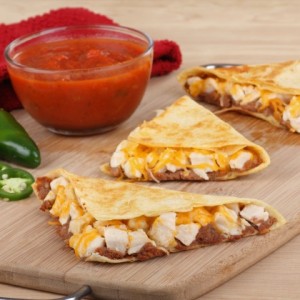 Easy Chicken Quesadillas from spoonful.com 
Quesadillas are a very popular Mexican snack food. Easy chicken quesadillas will satisfy your kid's taste bud without much hassle. The cheesy quesadillas are filled with tender chicken and chees. You can also add bell peppers, spring onion and tomato to the filling. The cheese melts completely in the mouth while the tortillas provide a crunchy texture. You can also prepare it from the leftover chicken. Pair it with crisp green salad and serve for dinner.