About 20% of the world's total population is believed to suffer from diabetes. Another 35% suffer from pre-diabetes, a condition that can lead to health conditions like diabetes, heart disease and stroke. People suffering from diabetes are of the assumption that they cannot consume sweet at all. All they consume are fruits to satisfy their sweet tooth. However, having diabetes does not mean that you cannot consume the birthday cake or apple pie again. Making simple substitutes when baking and preparing can help even the diabetics indulge in their sweet tooth. Here is a list of desserts that the diabetics can try without worrying about their sugar levels.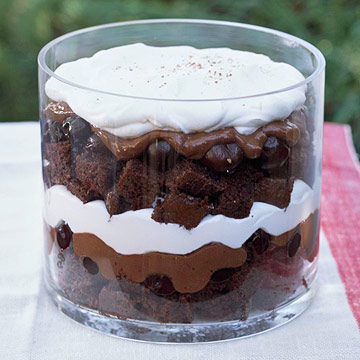 1. Black Forest Trifle from diabeticlivingonline.com 
Black forest trifle contains the same components as a black forest cake. The dessert contains sugar free chocolate, cherries, kirsch liquor and whipped cream. It is then served in the trifle bowl with delicious layers of chocolate brownies, cherries and cream. This cherry studded delight is extremely low in calories, fat and carbohydrates, making it a perfect addition to a diabetes meal plan. You can prepare this indulgent dessert without spending too long in the kitchen.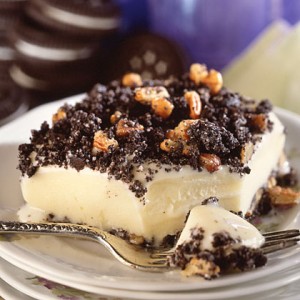 2. Cookies 'n' Cream Crunch from health.com 
This soft and satisfying dessert will offer you a treat without derailing your daily meal plan. The dessert is made with sugar free cookies and no-sugar added ice cream. Prepare the dessert a night before the party and store it in the freezer. Sprinkle nuts like almonds, pecan or cashews for garnishing. The nuts will provide a crunchiness and nutty flavor, along with healthy monounsaturated fat. Keep the ingredients on hand, so that you can prepare as and when you want to.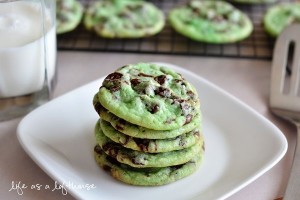 3. Chocolate-Peppermint Cookies from http://life-in-the-lofthouse.com
Chocolate and peppermint cookies are a chocolate lover's delight. These tiny treats will surely be a hit at the Christmas, holiday gatherings and St' Patrick's Day's parties. Mix calorie free sweetener in the dough to get the right amount of sweetness, while keeping the sugar levels stable. Peppermint in these cookies will prevent indigestion. You can also decorate the cookies with cherries and pink butter cream for presenting it to the kids. Pair these cookies with a cup of hot chocolate on a cold winter night. The cookies taste best when they are hot or warm.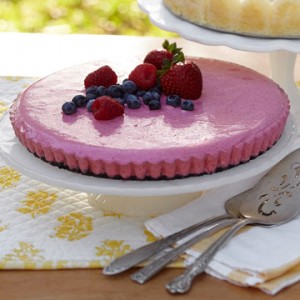 4. Frozen Raspberry Tart from recipe.com
This simple and sophisticated dessert can be served to the diabetics as well. This refreshing tart with cookie crumb is packed with berries. It has a smooth and creamy flavor, which just melts in the mouth. The tart does not only taste delicious, it is filling as well. Make sure you serve this dessert in small slices, as it is quite rich. You can replace the raspberries with any other seasonal fruit.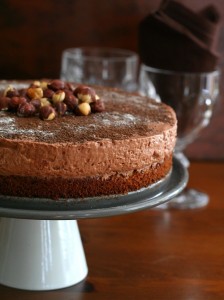 5. Chocolate-Hazelnut Mousse from alldayidreamaboutfood.com 
There could be nothing more blissful than a chocolate mousse with a touch of hazelnut in it. Use less than half the sugar in the traditional mousse recipe. The mousse's base is quite thick and looks like a custard. However, the whipped topping gives the classic, airy texture of the mousse to it. Chill the dessert for a few hours before serving it. Do not go overindulgent with this dessert as it is quite high in calories. Top it a dollop of whipped cream and grated chocolate and serve.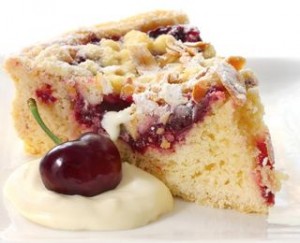 6. Cherry-Almond Cheesecake Bars from diabeticconnect.com 
Diabetics can now stop saying no to cheesecake. Cheesecake bars are a modified version of cheesecake. This decadent bar is prepared from graham cracker crust. This buttery cheesecake crumbles in the mouth with each bite. The dessert has just 9 grams of carbohydrates along with healthy monounsaturated acids.. You can dip these bars in the liquid chocolate to serve the kids. Top is with cherries or cherry syrup to complement the tang of the cream cheese.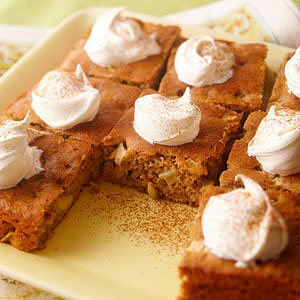 7. Apple Spice Cake from diabeticlivingonline.com 
There is nothing better than an old-fashioned apple cake to finish off a meal. The light and fragrant spices add depth to this apple cake. You can add the spices directly to the dough or to the fruit filling. The cake is moist and bursts with the flavors of apple and spices. The usage of cinnamon, ginger and nutmeg give this cake its dark color. Apple spice cake is perfect for afternoon tea or evening snack. Garnish with a dollop of cream or a pinch of cinnamon powder to complete the look. For variation, you can also add chopped almonds mixed with cinnamon and brown sugar. Serve the cake with caramel sauce while serving the non-diabetics.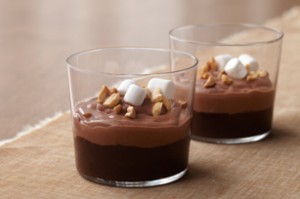 8. Rocky Road Parfaits from kraftrecipes.com 
The sugar free, chocolate parfait is an excellent option for the diabetics. Rocky road parfait is perfect for people who like both rocky road and parfait. This sugar free dessert is healthy and delicious at the same time. You can substitute the marshmallows with berries like strawberries, raspberries and blueberries.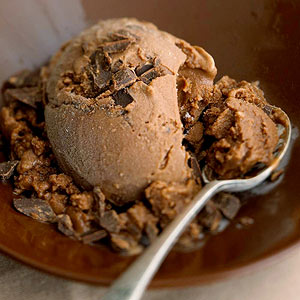 9. Chocolate Sherbet from recipe.com
Chocolate sherbet might sound like an unusual combination, but it tastes delicious and is cool and comforting. A calcium rich and low fat concoction will not affect a diabetic's diet plan. Serve the dessert with mint leaves, strawberries and orange peel strips. The sherbet needs to be frozen properly for 3 hours before serving. The deep chocolate flavor pair well with mint wafers. The addition of coffee in this sherbet balances the dessert well, without making it extra sweet.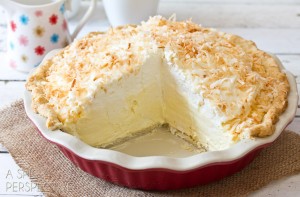 10. Coconut Cream Pie from  yummly.com 
This highly addictive pie is filled with creamy coconut custard and is topped with roasted coconut. You can layer the pie with whipped cream to give it a rich and fluffy taste. It will taste heavenly. Coconut cream pie is perfect for teatime party or any special occasion. Serve each slice of this pie with coffee or tea.