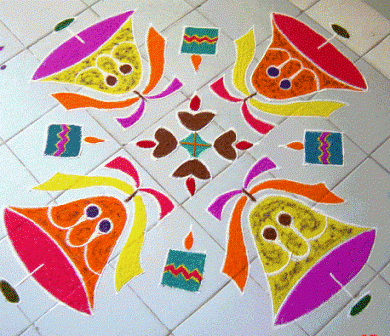 Christmas Rangoli
Festive season is round the corner and I suppose all the families have been planning and decorating their houses. Isn,t it? Lights, and my personal favorite, colours and a colorful beautiful rangoli.
Sometimes doing certain things together prospers harmony in a family. I and my elder sister have one such thing in common. We both love to make and design rangoli. My sister is not a keen appreciator of art work, but rangoli is one such thing that astonishingly she likes as well as helps me making it during Diwali and Holi. Certainly, colours are the thing that attracts all.
Even my father helps me decorating the rangoli whenever possible. My mother does the chores, according to the festive, and I am given the task of decorating the home with help of my sister. After cleaning, me and my sister first priority is to make a beautiful rangoli at the entrance. Now we can see lot of intricate rangoli designs on internet
Festive season is liked by all and relations come closer because of this. Visit by relatives can be welcomed and made pleasant by making a beautiful rangoli on any occasion.
In India, there are so many cultures, traditions and forms. Distinct regions have different set of styles and rituals, but one thing is common. Everybody likes to play with colours. Rangoli is basically a patterned form of colours.
Materials that can be used for making a rangoli:
Rangoli colours
Dried or fresh flowers
Dried or fresh leaves
Coloured rice, suzi, rawa, cream of wheat
Pulses, cereals
Coloured stones
Poster or fabric colours mixed with chalk powder
Dried wood powder
Here, I am enlisting some of the rangoli designs and patterns:
Christmas is a festival celebrated with lights and colours, Santa and bells. A small rangoli enhances the decoration.
Diwali Rangoli
Diwali, also known as festival of lights is a major festival celebrated all over India. Rangoli decorated with diyas and candles make the decorations enthralling and complete.
Holi-inevitably festival of colours. This colourful festival is played with colours and a patterned form of colour makes it significant.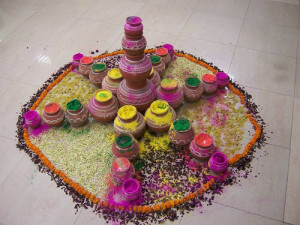 A south Indian celebrated festive has a significant usage of colours to commemorate Lord Vishnu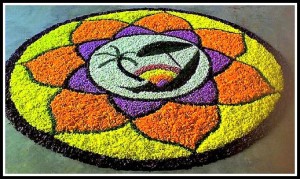 This is a harvest festival celebrated after the harvest season.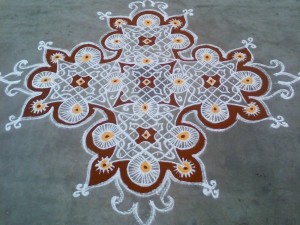 Kolam is word given to rangoli in south India.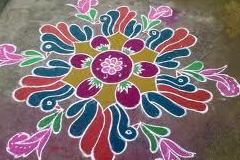 Bihu is an Assamese festival which is celebrated with folk dances. Rangoli adds to the beauty of the festival.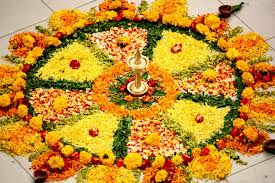 Well, New Year is celebrated worldwide with full enthusiasm. Colours add on to the beauty of the festival.
Independence Day is the most important day to all of us. So, why not to make it remarkable with the colours of a rangoli.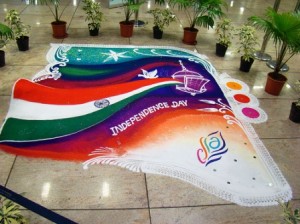 Forms and shapes used in a rangoli can have geometric forms.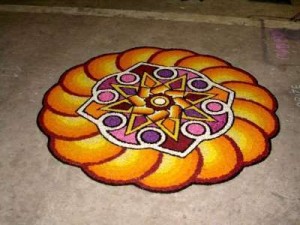 A large rangoli that occupies a large lot of floor area looks quite impressive and beautifies the place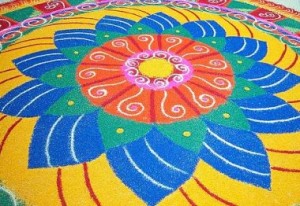 Birthday can be wished in a different style by sing the power of colours in a rangoli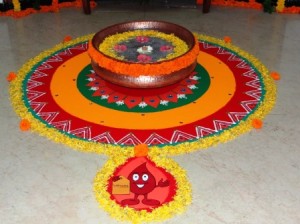 Traditional Rangoli in Gujrat
Rangoli is something that is a form of art and Gujrat and Rajasthan are quite famous for their exquisite artwork.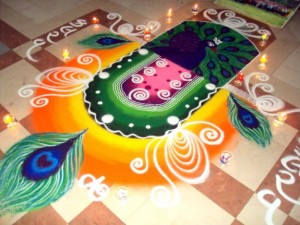 South Indians Rangoli Designs
South Indians have different traditions though, still the colours attract these people also.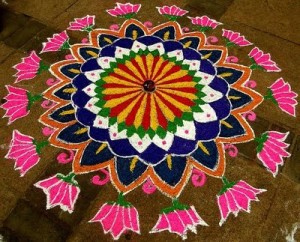 A rangoli made of flowers besides making the place beautiful, add fragnance to the place.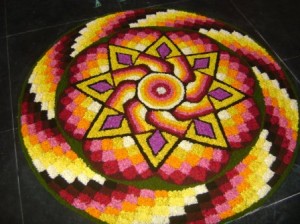 A rangoli patterned in a bit difficult form makes it look delightful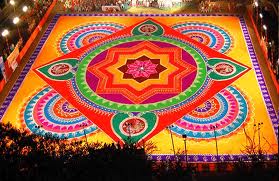 Lord Krishna as we all know loved colours a lot. A rangoli depicting his pictorials can contribute to the religious nature of rangoli.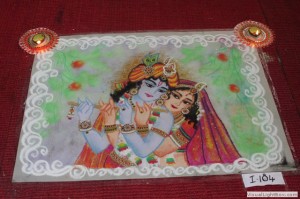 Lord Ganesha is considered to be the idol for any new work to be started. Making a rangoli of him, add the ambience of colours with religion.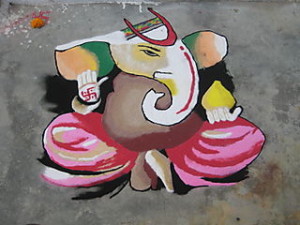 Rangoli can even be designed with the help of locally available leaves.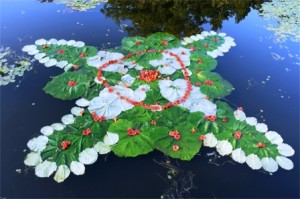 Stencil rangoli is made with the help of predefined stencils easily available in the market.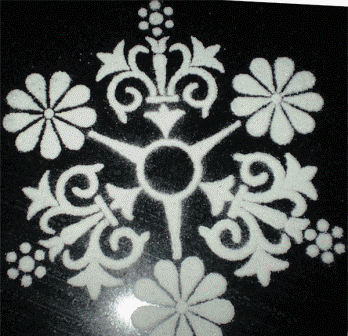 A rangoli with modern techniques and ingredients and abstract form fall under this category.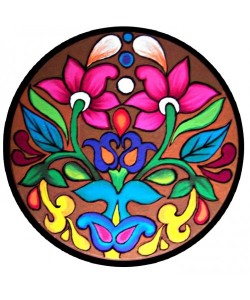 Modern art is concept derived from new imaginary world and is used to depict many emotions in one painting. A rangoli can be made out of this concept.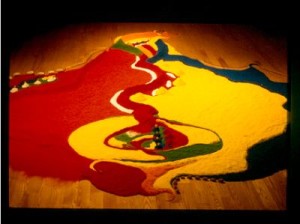 Peacock is a bird which is always commemorated because of its natural colours. A rangoli can be made using this beauty and keeping the splendid colours of a peacock in mind.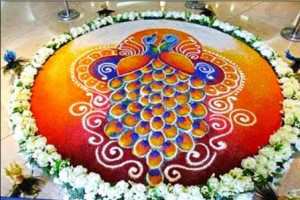 A new concept of floating rangoli has also come into being.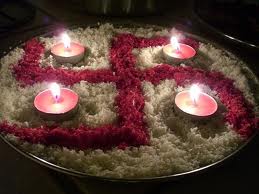 Adding many colours to a rangoli design makes it look more beautiful, more elegant.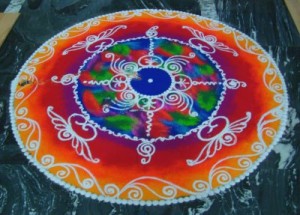 A design of rangoli made of dots imparts it a unique feature.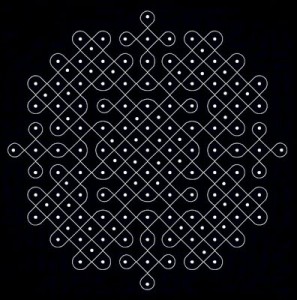 A simple rangoli can be made quite frequently without spending much time on it.
A small but elegant rangoli design makes is fancied by all.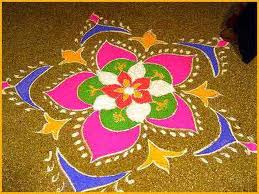 A fancy rangoli with beautiful patterns and shapes add to the beauty of colours.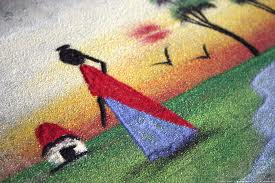 Alpana is basically abstract form of rangoli forms derived from past tradition.
Related Resources
Rangoli Designs from easyday
Latest Rangoli Designs by jagtialonline.in