Your wedding day is the most important day of your life. It is witnessed by your near and dear ones and is captured on film so that it can be remembered forever. Any bride would want to look her best on her wedding day and makeup plays a very important part in helping the bride look the most beautiful bride ever.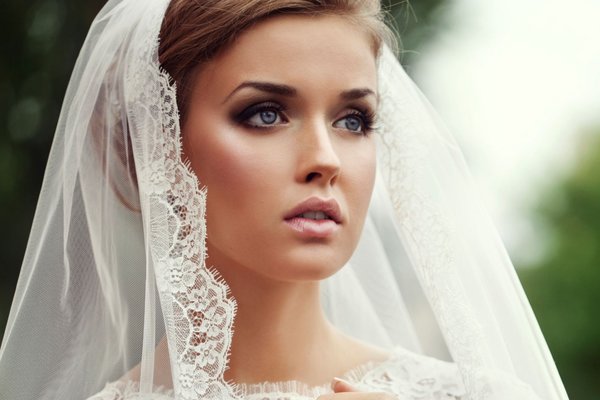 Image Source: Wedding makeup is one of the most difficult looks to create, as it has to be picture perfect. The goal of the wedding makeup should be to bring out the best features of the bride. Here are some simple tips and tricks to help your makeup last longer even after crying, eating, dancing and hugging. Highlight either your eyes or mouth: This is the basic rule of makeup. You have to highlight either your lips or eyes. Highlighting both the eyes and lips can make you look like a clown and I am sure you would not want to look like one on your wedding day. If you have decided to highlight your eyes, then keep the lips neutral with a light swipe of gloss. If you have decided to highlight the lips by applying a deep or bright colored lip color, then keep the eye makeup light.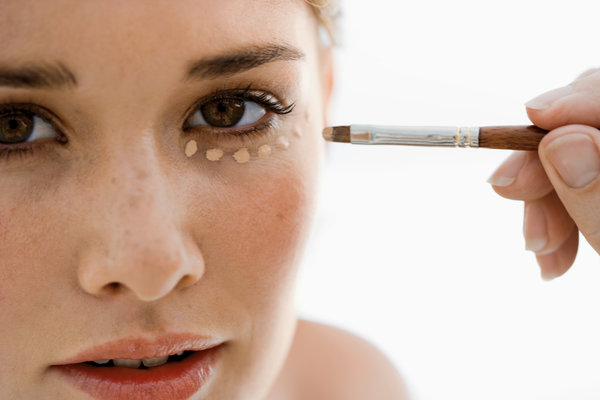 Image Source: Face makeup: Foundation, compact, concealer and primer are the essential products you need for face makeup. Choose the products that stay put for longer time without fading or smearing. Prime your face before applying the foundation and compact. Primer fills in the pores and lines, making the foundation glide effortlessly. It also makes the makeup last longer. The foundation should be of the exact color of your skin tone. Match the shade on your jaw line, rather than the cheeks or wrist. Some foundation and powders look different in pictures because they reflect light differently. It would be best for you to get your makeup photographed with a flash a day before the big day. Blend the foundation down to the neck so that the face does not look different from the rest of the body. Do not forget to blend at the corner of the eyes, jawline, and hairline and around the mouth. Remember, the camera can pick up visible makeup lines easily. So, apply the foundation with fingers to avoid brush strokes. For a flattering look, keep your face matte. Dust some translucent powder on the nose, chin, forehead and between the eyebrows for setting the foundation. Pay close attention to the area under the eyes as it is prone to get oily. Apply the powder using the press and roll motion for the T zone. Do not apply too much powder, as it can make the face look chalky. Use a bronzer on the face and neck to even out the skin tone. This will make the skin luminous, while ensuring that it does not look different from the rest of the body. Nothing works better than a highlighter to brighten the face. Apply a bit of highlighter under the eyes, in the creases of the jowls, above the brow and under the chin to get a bridal radiance. Any more than this will make you look like a disco ball. While choosing a highlighter, avoid purchasing silvery tones, as they look very artificial. Follow the foundation with a good concealer. A concealer is required to correct skin imperfections and redness. A green concealer neutralizes redness from rosacea and pimples. Yellow concealer neutralizes dark circles while lavender concealer neutralizes yellowness. Apply the concealer sparingly with a small and soft brush.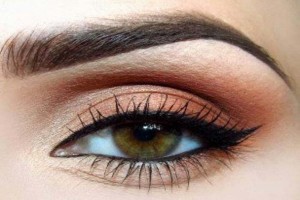 Image Source: Eye makeup: Apply an eye shadow primer to keep it from melting when you are crying out of happiness. This will also prevent the creasing throughout the day. Put the lenses before applying the eye makeup. If you are opting for a smoky eye, go for earthy tones like brown and grey, not black. You can also try for cat eye makeup. Red, gold and metallic brown eye shadow shades go best for bridal makeup. Do not forget to use a white shadow to highlight the brow bone. Women with deeper complexions should go for light peach or vanilla shade of highlighter. Do not contour the eyes with dense colors as it can detract from the eyes. Choose charcoal, mahogany and navy blue liners if your wedding is a day event. Choose black or brown liner for a night wedding. Defining the eyebrows opens the eyes and frames the entire face. Fill the eyebrows with powder that matches the hair color for an added polish and definition. Lashes: Waterproof mascara is an absolute must. It lasts long and can even withstand the tears. Use a single coat of regular mascara and then follow it with a coat of waterproof mascara. If you have a light skin and blonde hair, do not wear black mascara. Brown is a better option to get a natural look. Curling eyelashes is also essential. It will make your eyes pop. Heat your eyelash curler with a blow dryer for 5 seconds before curling the lashes. Test the curler first on your wrist to make sure it is not too hot. Another way to enhance the eyes without using too much eye makeup is by wearing artificial or false lashes. False eyelashes open the eyes and give the lashes an added depth. Individual lashes give a more natural appearance than strip lashes. You can also try lashing extension for the big day. Cheeks: Blush is essential to get a healthy flush of colors on the cheeks. It acts as an instant face-lift. Fair-skinned women should go for a pink tone; while deeper skin toned, beauties should choose a rosy hue. Cream blush is more long lasting than powder blush. Apply the cream blush on the apples of your cheeks using your fingers and then blend with a soft powder blush. Make sure you blend the blush well.  This will help the color stay put all day.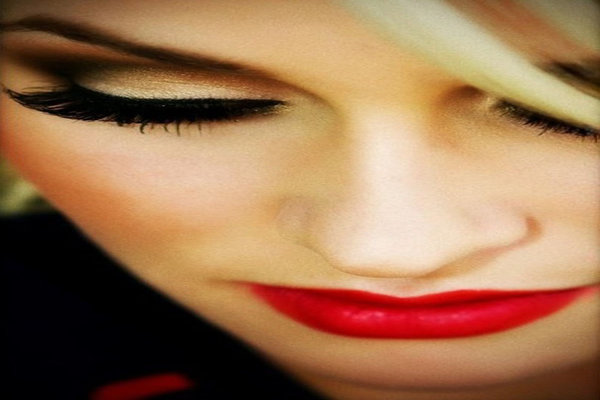 Image Source: Lips: Choose bright and dark lips color for your wedding. Pale, nude and brown can make you look washed out and hollow in photos, especially if you are wearing a white gown. You can even mix several lip colors to get your perfect lip color. Make sure you carry a lipstick for regular touch ups. Lip stains work well to give a long lasting color to the lips. Make sure your lips are moisturized before applying the lipstick. Exfoliate the lips by slathering Vaseline and scrubbing in a circular motion with a baby toothbrush. Fill the lips with a lip liner and then apply a gloss or lipstick over it. The liner will keep the color intact. Make sure you choose the same lip liner as the color of the lipstick and lip-gloss. Lighting: Natural light is the best for applying makeup. Artificial light can distort the way we view colors. It also hides the facial flaws rather than showing it up. Set up a vanity table near a window for best results. If your wedding is at night, use a super bright, halogen light for makeup application. Skin care: No matter how beautiful you features are and how luscious lips look, if the skin looks blotchy or oily, you will not look your best on your wedding day. A bride's first priority is to make her skin look great. Only then should she move on to highlight the eyes, cheeks and lips. Keep your hands away from the face if you have a blemish or a pimple. The spot will heal faster if you leave it alone. Consult your dermatologist and ask for a cortisone injection to shrink the monstrous pimples. Cleanse, tone and moisturize the skin before applying the makeup. Moisturize the dry patches without making the skin look greasy. Make-ups will not sit on greasy skin. Use a sunscreen of SPF 30 or higher, if your marriage venue is outdoors. Exfoliate the skin once and twice every week to make your skin look its best. Make a homemade facial scrub by combining while sugar with coconut oil or olive oil. Oily skinned beauties should carry blotting sheets to keep the oil at bay. The blotting paper will soak up the excess oil, leaving the makeup intact.  Set your makeup with a loose powder before walking down the aisle, but do not over powder the skin. Our body reflects what we eat. Eat high amounts of antioxidant rich fruits and vegetables to get a healthy and glowing skin.  Drink plenty of water, but avoid sugar, milk, and carbonated beverages. Treat yourself to a professional facial 2 days before the wedding day. The skin can look irritated for the next couple of days after the treatment. So get the treatment done 2 days before to give your skin time to calm down. Get your brows plucked and shaped a day before the wedding day. Plucking them on the wedding day will make the brows look red, irritated and swollen.   It is best to wax at least 48 hours before your D-Day. Apply a talcum powder liberally to the inside of your thighs before doing the bikini wax. Newbies should take two Ibuprofen a few hours before getting the waxing done. Hair care Head to hair spa and get a scalp massage to stimulate the hair follicles and add volume to the hair. Indulge in a deep conditioning hair treatment 2 days before your wedding. Do not forget to pack extra hairpins and a hair spray.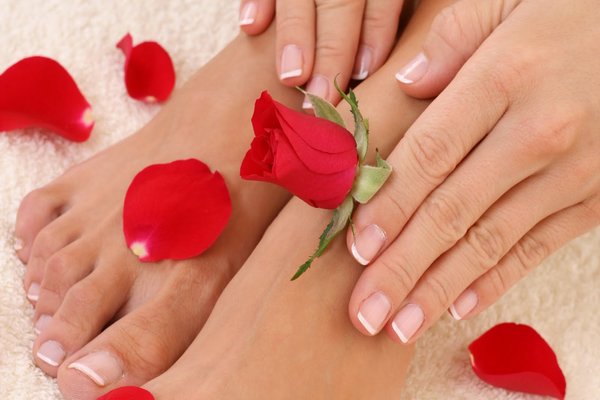 Image Source: Manicure and pedicure: You wouldn't want your finger and toenails look dirty and ugly on your wedding day, right? Get a manicure and pedicure a day before the wedding for shining and well-shaped nails.