A yummy and delicious lunch, dinner and breakfast could not get easier than this. Follow these simple recipes to help your dinner get on the table in no time. The recipes are perfect for the busy weeknight when you do not have much time to cook. You can also adjust the quantity and ingredients according to the number of people you are serving and the flavors you like best.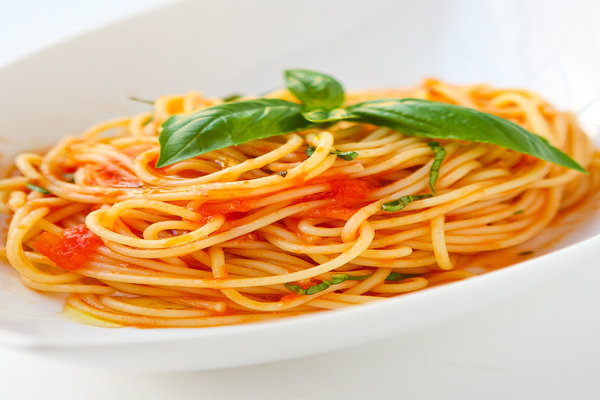 1. Pasta with Fresh Tomato Sauce from steamykitchen.com 
Fresh tomato sauce is best known for its addition in pasta dishes. Paste with tomato sauce is a classic Italian dish with loads of tomato and creamy mozzarella. The presence of herbs and heart healthy tomatoes give this dish an extra depth of flavor. You can put this easy to prepare meal together in just a matter of few minutes.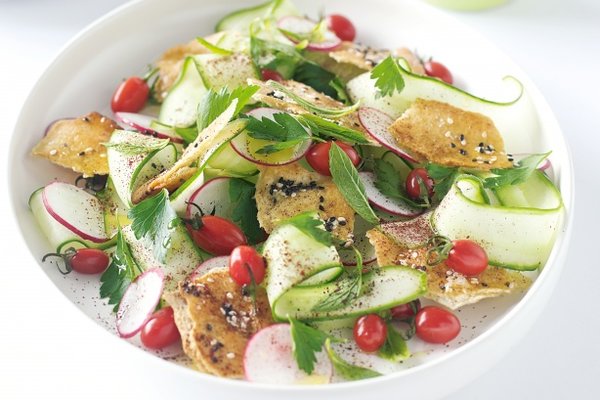 2. Fattoush Salad from homelife.com.au 
Fattoush is a Levantine bread salad made from the toasted pieces of pita bread. The pieces of roasted pita bread are combined with mixed green, vegetables and even meat. Combine herbs, tomatoes, bell peppers. red onion, bread pieces and dress with extra virgin olive oil. Season the salad according to your taste buds. Feta cheese, olive and pepperoncini will add an extra zing to it. This easy and filling salad will make as an excellent side dish. Serve the salad with with grilled meat.  You can also use French loaf or Italian bread instead of pita bread.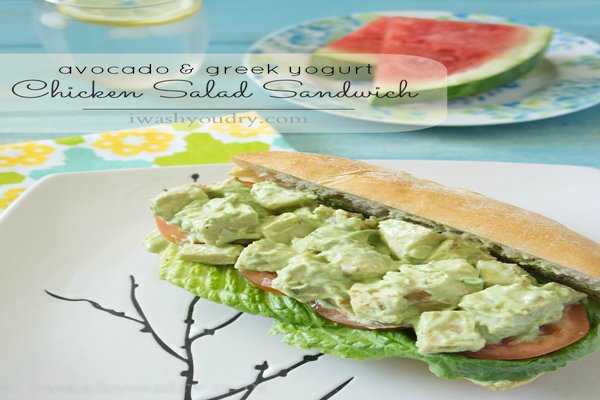 3. Greek Yogurt Sandwich from iwashyoudry.com 
This is a filling and easy to prepare sandwich you can make in a short of time. Spread plain Greek yogurt on a slice of French loaf and add fillings of your choice like chicken, tomato, cucumber, avocado and lettuce. Season it with herbs of your choice and extra virgin olive oil. Top the sandwich with another Greek yogurt slathered bread. The Greek yogurt will add creaminess and flavor to the sandwich. The sandwich is not just tasty. It will provide a punch of nutrients as well.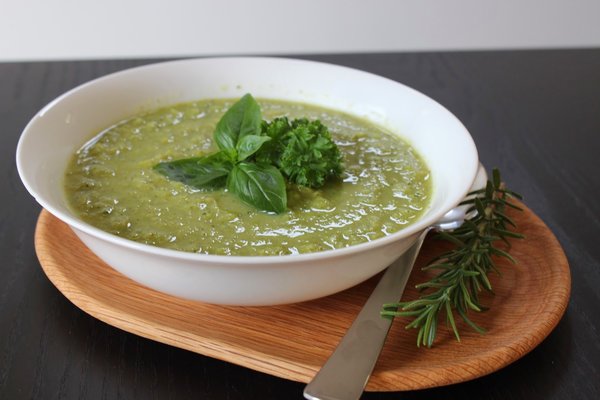 4. Autumn Greens Soup from power-of-wellness.com 
Nothing beats the chill like a steaming hot bowl of soup. Nutritious and satisfying autumn greens soup is filled with heart friendly vegetables and herbs like potato, spinach, chard, kale, garlic and scallions. You can also add scraps of meat to make it more filling. Its velvety smooth texture along with the creamy flavor will make it a favorite amongst your kids. Garnish the soup with shaved Parmesan cheese and serve hot.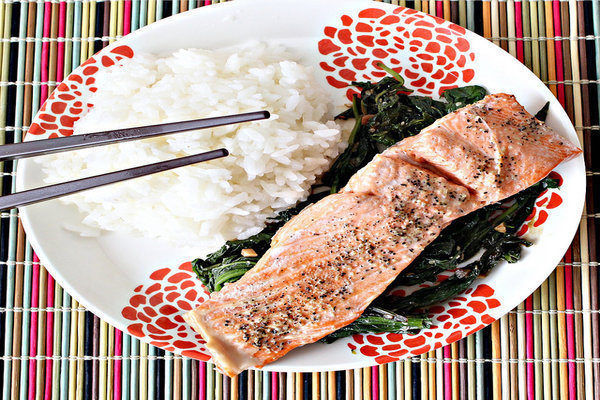 5. Steamed Wild Salmon from joanne-eatswellwithothers.com 
Steaming in a basket is the best way to retain the nutrients of the salmon. This quick and easy, healthy, steamed wild salmon will surely please your taste buds. Steam a large fillet of wild salmon with lemon, minced garlic and fresh dill and stir in some chopped herbs, extra virgin olive oil or white vinegar for a dash of taste. Serve it with asparagus to fulfill your daily dose of niacin, omega 3 fatty acids, protein and tryptophan. You can also steam salmon with leek, mushroom and garlic to bring out its natural sweetness while keeping it moist and flavorful.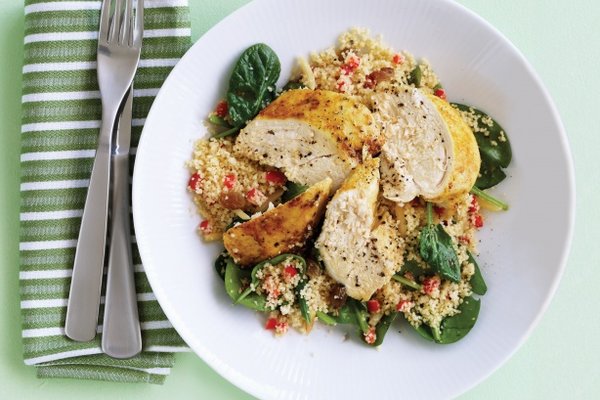 6. Moroccan Chicken Couscous from taste.com.au 
Turn your leftover chicken into a Middle East appetizer with this simple recipe. This flavorful dish uses exotic ingredients like herbs and vegetables served over chicken couscous. You can add the vegetables according to your taste. This dish is ideal for family dinners, as it does not have too much spice in it.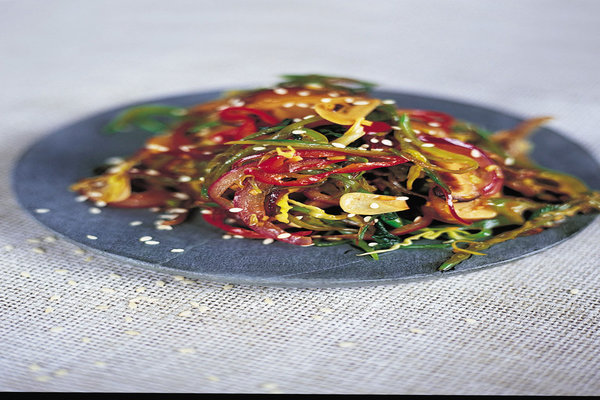 7. Stir fried vegetable from jamieoliver.com 
Stir fried vegetable is an easiest way to prepare dinner with minimal cleanup. It is a quick and easy way to prepare your vegetables. The dish is packed with fiber rich vegetables and protein rich tofu and nuts, which makes it a satisfying meatless meal. Stir frying method will retain the nutrients, while providing the much-needed crunch. The dish will pair best with rice noodles. You can also add shrimp, prawns, tofu and chicken to increase its protein levels.
8. Feta-Stuffed Chicken Breasts from rachaelray.com 
Chicken breast is one of the most versatile cooking ingredients. You can stuff the chicken with almost anything, including the leftovers. Stuffing chicken breast with feta cheese, scallions and pimientos will take it to an entirely different level. Serve the chicken with sun dried tomatoes and basil for a satisfying dinner. The recipe is perfect for a quick weeknight meal.
9. Fajita-Ranch Chicken Wrap from pinkbites.com 
Fajita is a Mexican style wrap. It is an excellent and innovative recipe to try out with boneless chicken breasts. The breasts are stuffed with mozzarella cheese, mushrooms and other vegetables to create a quick and delicious recipe. Roll the chicken, vegetables and cheese into the tortillas and voila! You are done with it. This yummy fajita will go best with tomato salsa or sour cream sauce.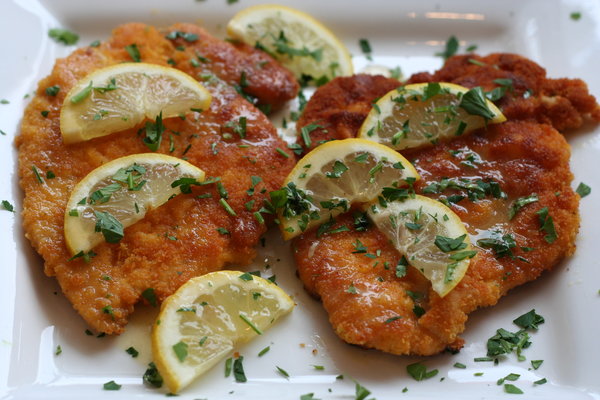 10. Chicken Piccata from scrumptiouz.com 
Piccata is a classic Italian dish prepared by slicing, coating and sautéing the chicken cutlets. Slicing and flattening the chicken pieces eliminates the chances of serving undercooked chicken.  The chicken is then served in a sauce of butter, lemon juice, caper or wine. The dish can be prepared within 20 minutes, making it an ideal option for the working people. The dish is usually served with pasta, rice and polenta. You can have this delicious chicken on your table in less than 20 minutes.