Christmas is the time to cheer and be merry. And, one really needs to know how to satisfy the sweet tooth. With so many dessert options available, what do you plan to make, this Christmas? The choice is always difficult to make, right? Well, we will try to solve some of your problem by giving you some nice suggestions.
Easy Christmas Desserts Recipes
Won't it be good to learn of some easy Christmas dessert recipes, which can be made in a jiffy? We give below a mouth-watering recipe, which will not take you much time.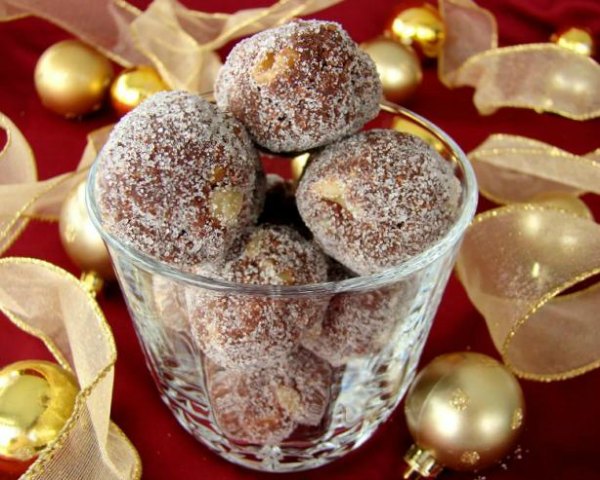 Christmas Rum Balls
Ingredients:
Vanilla Wafers – 2 and ½ cups crushed
Cocoa – 2 tbsp
Icing Sugar – 1 and ¼ cup
Spiced Rum or Bourbon– ½ cup
White Corn Syrup – 2 tbsp
Broken Walnuts – 1 cup
Process:
Mix cocoa and 1 cup sugar and do the sifting.
Add the nuts and the crushed wafers to this mix.
Mix it all up thoroughly.
Now, shape this mixture into small balls and sprinkle the remaining sugar on top of them.
Your Christmas Rum balls are ready and can be stored in a tin.
Christmas Desserts for Kids
Kids are quite fussy and it is really difficult to please them, when it comes to food and desserts. So, one will need to take special care for preparing the dessert for kids. We give below some interesting recipes, which will make them jump.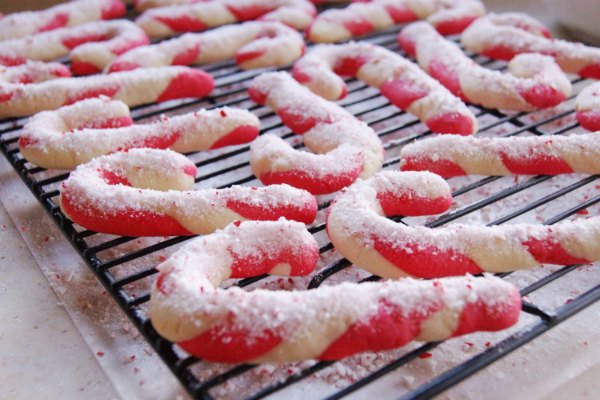 Candy Cane Cookies
Ingredients:
Sugar cookie dough – 18 ounce (Refrigerated and softened)
Flour – 3 tbsp
Peppermint Extract – ½ tsp
Red Food Coloring – ½ tsp
Process:
Take a big mixing bowl and put the cookie dough and flour into it. Now, add the peppermint extract and beat it up till it becomes smooth.
Divide this dough into half and add the food colour in one portion.
Now, shape each teaspoon of the colored dough into rope of 6 inches. Place all the ropes side by side and press them together, till are lightly twisted.
Place a baking sheet, without greasing. And put the canes, by giving it a shaped of curved candy cane.
Repeat the same process with the other half of dough.
Place each of the cookies at a distance of 2 inches from each other on the baking sheet.
Bake the cookies at 350 degrees for about 8 to 10 minutes, till they are set. Let the, cool down for 2 minutes. Then, remove them from the wire racks.
Image Source: thekitchenismyplayground.com
Gluten Free Christmas Desserts
Now, it is time for you to learn some Gluten Free Christmas Desserts.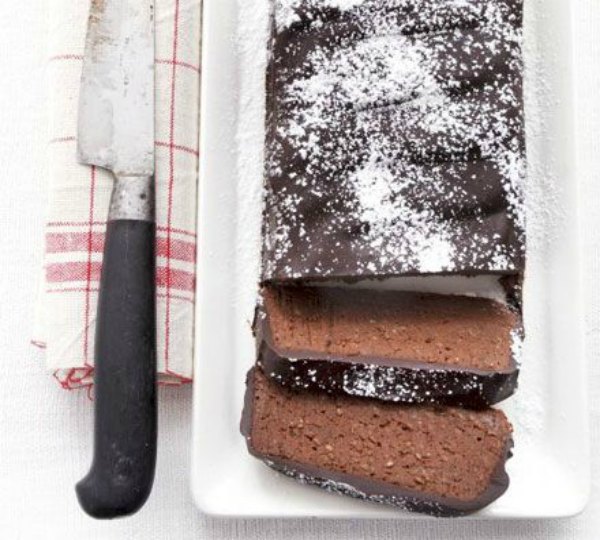 Chestnut Truffle Cake
Ingredients:
Cooked Chestnuts – 400g
Caster sugar – 100g
Chopped butter – 100g
Dark Chocolate – 100g (To ensure that it has at least 70% of cocoa solids)
Milk – 3 tbsp
Vanilla Extract – 1 teaspoon
Cognac – 2 tbsp
For Topping:
Dark Chocolate – 100g
Butter – 25g
Single Cream – 1 tablespoon
Icing Sugar – for decoration
Process:
Put chestnuts and sugar in the food-processor. Process them till they are quite smooth.
Now, put the chocolate and butter in the pan along with milk. Heat it up and stir it gently till it melts into a smooth sauce.
Add the cognac and vanilla essence to the chestnut mix and process them in the food processor till they are completely smooth.
Take a small loaf tin and cling the film around it. Now, pour the chestnut truffle mix inside it. Make the top smooth and cover up the tin with a cling film.
Chill it for 24 hours
When you wish to serve the cake, you can remove the truffle cake on a flat plate. Remove the cling film.
You can melt the butter, chocolate and the cream for doing the topping. This can be spread across the top and the sides. Return this truffle cake back inside the refrigerator for setting up.
You can sprinkle some icing sugar on top, while serving.
Image Source: Pinterest
Christmas Party Desserts
Christmas party desserts without cake is meaningless, right? So, let us go through a recipe for Lime Semi-Freddo Cheesecake. It is an easy recipe and will taste yummy.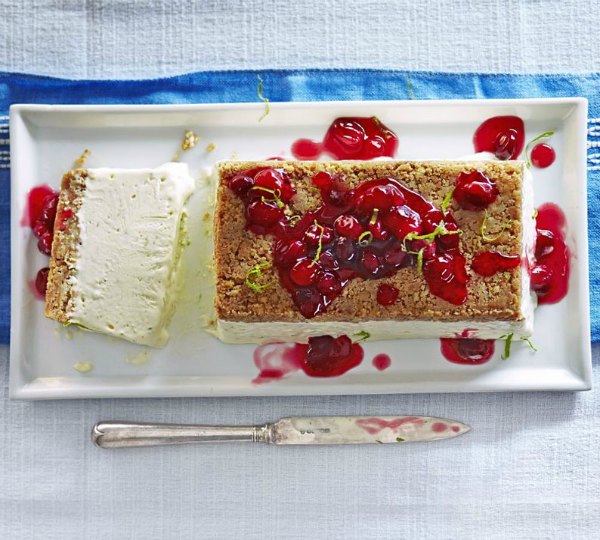 Lime semifreddo cheesecake
Ingredients:
Digestive Biscuits (broken pieces) – 140g
Melted butter – 75g
For filling:
Condensed Milk – 300ml
Cheese (Full fat cream) – 200g
Double Cream – 15ml
Limes (finely grated) – 3
Lime Juice – 3 tablespoon
For the Cranberry Compote
Fresh Cranberries – 200g
Caster Sugar – 100g
Cornflour – 1 tablespoon
Process:
Take a big loaf tin and line it up with foil. Now, press the base and the side and leave some overhanging around the edges.
Break the biscuits into smaller pieces. Now, mix the melted butter and put the biscuit crumbs in the tin and form a layer.
Beat the cheese, cream and condensed milk with a blender till it becomes smooth and thick. Now, add the grated lime and lime juice. Beat it softly till the cheese forms soft humps.
Now, put a spoon of lime mixture on top of the crumbled biscuits. Cover it up tightly with overhanging foil and seal it up nicely. Do another wrapping with foil and put it inside the freezer for overnight freezing.
For making the Cranberry compote, you need to put sugar, cranberries and a cup of cold water in the pan. Cook for about 5 minutes, stirring it occasionally, till cranberries are soft.
Now, mix the cornflour with little water and put it on the fruit. Cook it up for another 2 minutes. Let it cool down and you can chill it up.
Remove the frozen cheesecake on a plate and let it thaw for half an hour. Remove the foil and put the cranberry compote on top of it. Your lime Semifreddo cheesecake is ready.
Image Source: BBCgoodfood
Cute Christmas Desserts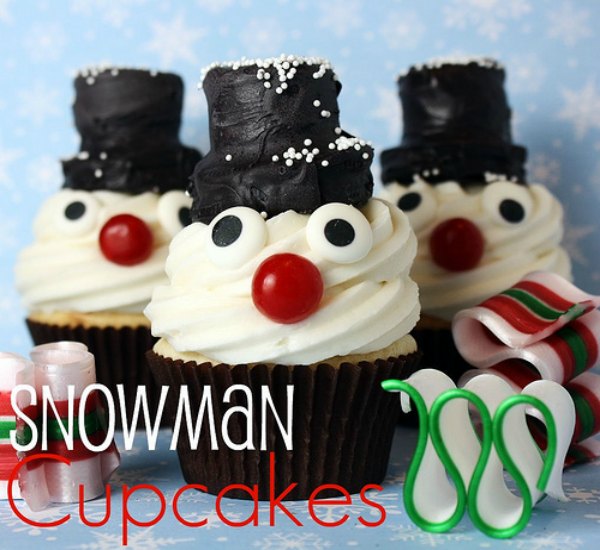 Christmas Snowman Cupcakes
Ingredients:
Cupcakes (small) = 24
Chocolate coins – 26
Chocolate pieces – 24 rounds
Icing Sugar – 250g
Butter – 125g
Hot water – 2 tbsp
Marshmallows – 24
Chocolate Sticks – 12
Black, Green and Red Icing – 40g each
Process:
Melt two chocolate coins, till they become liquefied.
Dip the round chocolate into melted chocolate and stick it to the coins, so that they look like top hats.
Sieve the icing sugar and add it to the water and butter.
Mix it slowly and then fast till it becomes creamy.
Spread the butter-cream mixture on each cupcake, leaving a little mixture aside.
Place the marshmallows over each cupcake's middle.
Snap the chocolate sticks into halves and place them on the cupcakes for giving it the shape of arms.
Now, you can make the green scarf, black eyes, red nose and buttons piping.
Lastly, stick the top-hat with the leftover butter-cream.
Image Source: Therosenbits.blogspot.com
These were some of the easy Christmas dessert recipes. Hope you had fun checking them out. Now, try it out at your home and have your family and guests, licking their fingers. After all, Christmas party is not complete without the desserts.