Cleansing toning and Moisturizing – the most important ritual for healthy skin has become more and more popular with time. Today most skin care conscious women know the importance of these three products in our skin care. Moisturizing has been so far considered the most important part of any skin care ritual. The age-old myth of oily skinned women not needing any moisturizer has too been busted. But choosing a moisturizer may become a tough job with loads of choices available in the market. A moisturizer will be different based on the skin types that are suitable, the amount of moisturization it provides, whether it's a day time moisturizer or a night-time moisturizer the possibilities are endless. To help you decide which one is a good choice for you we present some of the best facial moisturizer.
Clinique Moisture Surge Intense Skin Fortifying Hydrator:
Women with dry sensitive skin find it quite difficult o come across a moisturizer which will be perfect for them. Clinique's Moisture Surge Intense Skin Fortifying Hydrator has been made especially keeping in mind the needs for such women with dry sensitive skin. This moisturizer is a gel that locks in the skin's moisture and keeps skin hydrated for a longer period of time. It helps to reduce water loss of skin and keep it feeling soft and supple like velvet. This one works as a night-time hydration too for drier seasons. It's priced at 37$ at Sephora.com and GBP 32 at the Clinique UK online store clinique.co.uk
Kiehl's Powerful Wrinkle reducing Cream:
Women with flaky dry skin around the world have been going gaga over this cream as it's been rated one of the most effective creams worldwide by genuine users at total beauty. If you have dry flaky skin and get those occasional dry spots and areas try Kiehl's Powerful Wrinkle reducing Cream which also controls itchiness and balances skin moisture. It adds glow to the face and keeps skin feeling soft and firm. The cream is highly absorbent and does not break out sensitive skin. It's available for 52$ on kiehls.com
Artistry Time Defiance Skin Refreshing Lotion: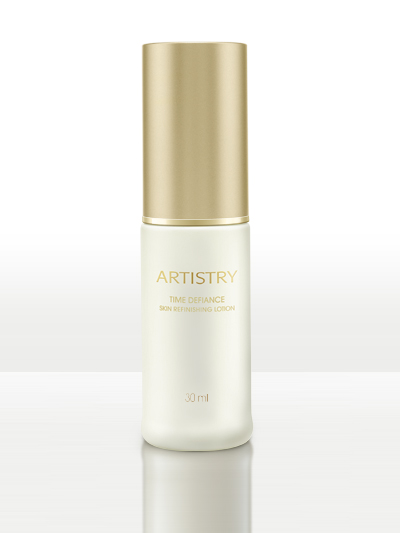 If you want to have baby skin then this is your Partner. It has patented non-acid technology and hydro lipid matrix which delivers softer, smoother and velvety skin. It's a gentle exfoliator too and has natural ingredients such as oat protein, sugar and sugar derivatives and algae and has no acid content. It provides the skin with the needed moisture and helps even out skin tone. Many women have professed that it has also helped other skin care items seep in better.  This lotion promises improvements and noticeable changes within a week. This lotion is available from Amway website at 52.35$ .
Chanel, Le Weekend De Chanel: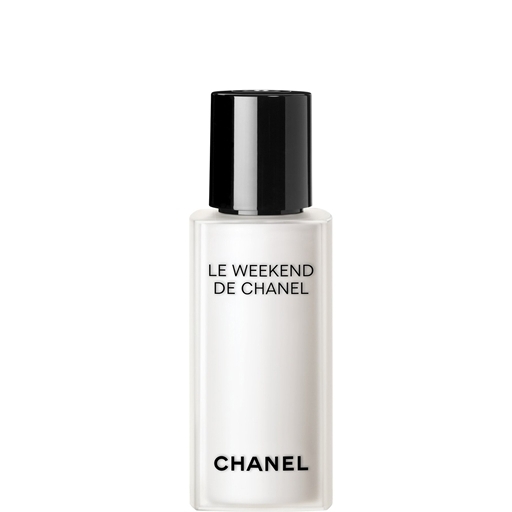 Chanel has presented Le Weekend De Chanel as part of Chanel's Metronome trio. This cream has been one of the most favorite moisturizer around and is great for dry skinned beauties. Chanel's Le Weekend De Chanel is a smooth silky concentrate which enhances skin renewal. It has may rose-water and high tolerance glycolic acid complex which is great for exfoliation . The cream makes skin soft and glowing.  This cream is available for GBP 72 at boots.com
Shiseido Bio-Performance Advanced Super Revitalizer Whitening Formula: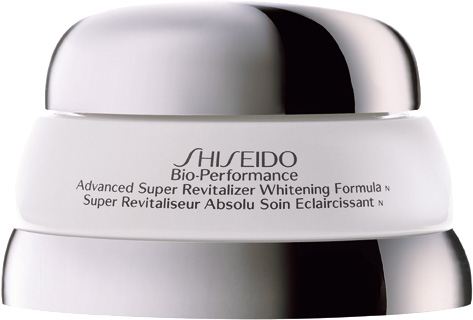 Shiseido presents a very special cream that is also suitable for skin which looks like velvet. This cream keeps skin hydrated, soft and glowing. This does not cause any breakouts for even the most sensitive skin types. Users have confessed that it's worth every penny spent. The cream is said to sink into the skin without leaving any greasy or oily residue on the top. This is available for 98$ at Sephora.com
 L'Occitane Divine Creme :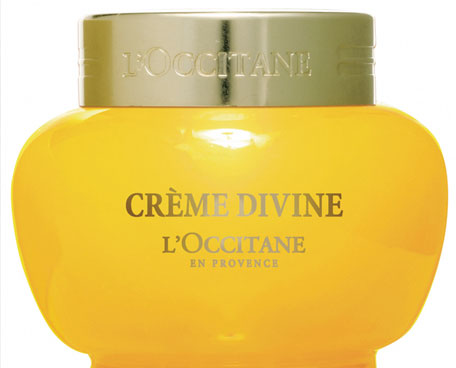 L'Occitane Divine Creme has been one of their best-selling products. The new addition of more ingredients and the relaunch has been even more successful. If you want anti ageing cream that will keep you hydrated for long try this one . The cream has been considered a wonder product for dry skinned beauties. It keeps the skin's moisture intact and seals in the hydration making skin look plump . This creme is available for 106$ at Loccitane USA store.
Clarins Beauty Flash Balm :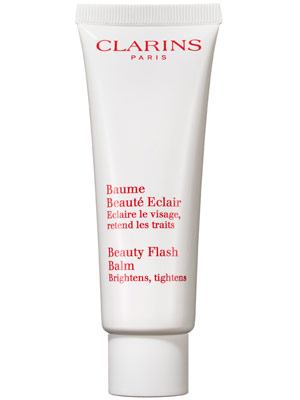 Clarins has been known to produce affordable yet effective beauty and skin care items. Clarins beauty Flash Balm has been a total winner for dull , dehydrated , dry skin. This balm helps to give instant effects like making skin glow and even out fine lines to a good extent. It's said to protect skin by it's invisible protective film like layer. It contains olive extract, bisabolol and the famous Clarin's radiance booster formula. Clarins Beauty Flash Balm is available for 46$ at Sephora.com .
Avon Anew ultimate Age Repair Day Creme: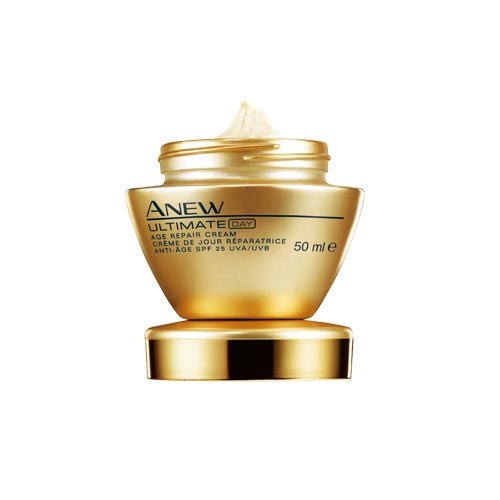 Avon's Anew Ultimate Age Repair Day Creme with SPF 25 had been chosen as the winner of Allure Magazine's 2010 Reader's choice Awards. If you are past your forties and are suffering from wrinkles and dryness then try this product. It's proven to make skin smoother, it repairs skin and also tightens it. The cream reduces wrinkles and also has SPF protection. It's available for 35$ but is often at discounts.
Jurllique Calendula Cream: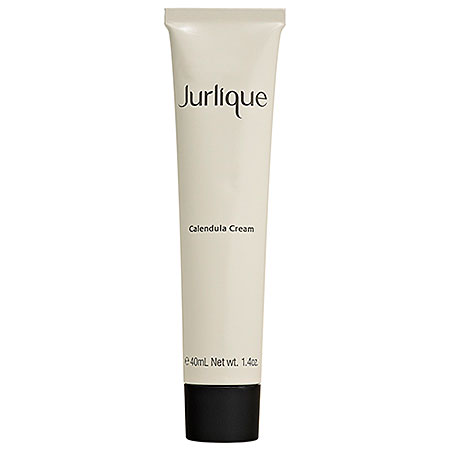 Sensitive skinned women find it hard to locate a moisturizer that is suitable for their skin types and when you have acne prone skin finding a moisturizer can be a tough job. Jurlique presents this soothing and hydrating skin creme which helps to keep sensitive skin in control and prevents it from breaking out. It repairs damages and deals with dryness. It's available for 37$ on Sephora.com
Biore Duel Fusion with SPF 30: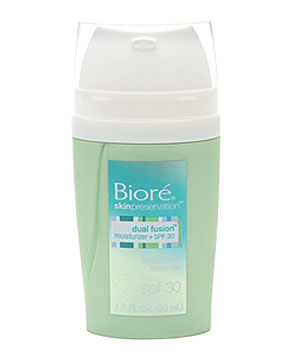 Combination skin has many problems to deal with. Most of the time the T zone is oily whereas the rest of the face is dry or normal . For those with combination skin Biore Duel Fusion with SPF 30 is a great choice. The SPF helps to protect skin from sun damage and the moisturizer is not at all greasy. It can be applied to dry skin areas as well as the oily T zone.
Creme de la mer, The Moisturising Soft Cream:
One of the most expensive and favorite creme of the recent times the new creme de la mer is lighter and works faster. The light formula helps the product to skin deep into the skin and workks as an ideal day cream. The creme makes skin feel fresh and plump. The creme de la mer is available at Creamdelamer.com for 155$ & 285$(For two sizes)
Shiseido Future Solution LX Total Protective Day Cream SPF 15: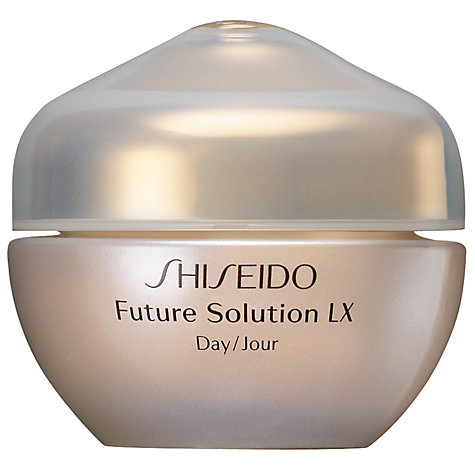 if you feel daily pollution and sun exposure has damaged your skin then try Shiseido's Future Solution LX Total Protective Day Cream which contains Sansho extracts all the way from JAPAN. The creme repairs damaged skin, makes it smoother to touch and supple. It's available for 240$ from leading stores.
Sisley Botanical Moisturizer with Cucumber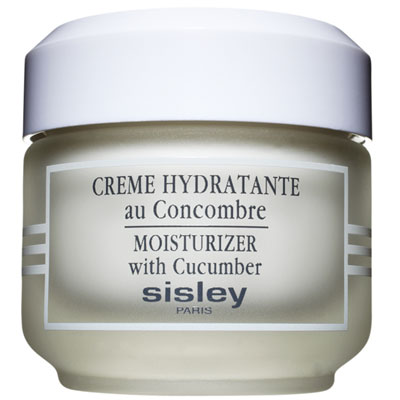 If you are skeptical about using products with loads of unknown active chemical ingredients then try this moisturizer from Sisley. It's packed with botanical ingredients and the goodness of cucumber. Users have seen a difference with the first use . the creme helps skin become silky and retains the skin's hydration. It's priced at 143$ but it's worth every penny.
The Body Shop Vitamin C Moisturizer SPF 15: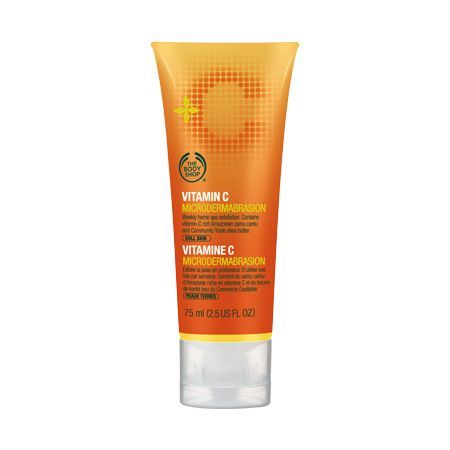 If you have oily skin and want a drugstore and affordable moisturizer with an average SPF protection try this moisturizer from The Body Shop. It's lightweight, seeps into skin instantly , does not make oily skin greasy and brightens the skin. It's suitable for oily skin too. The creme has been proven to brighten skin all the while protecting skin from Sun damage. It's available for 20$ at Body shop stores and website.
Mary Kay Intense Moisturizing Cream: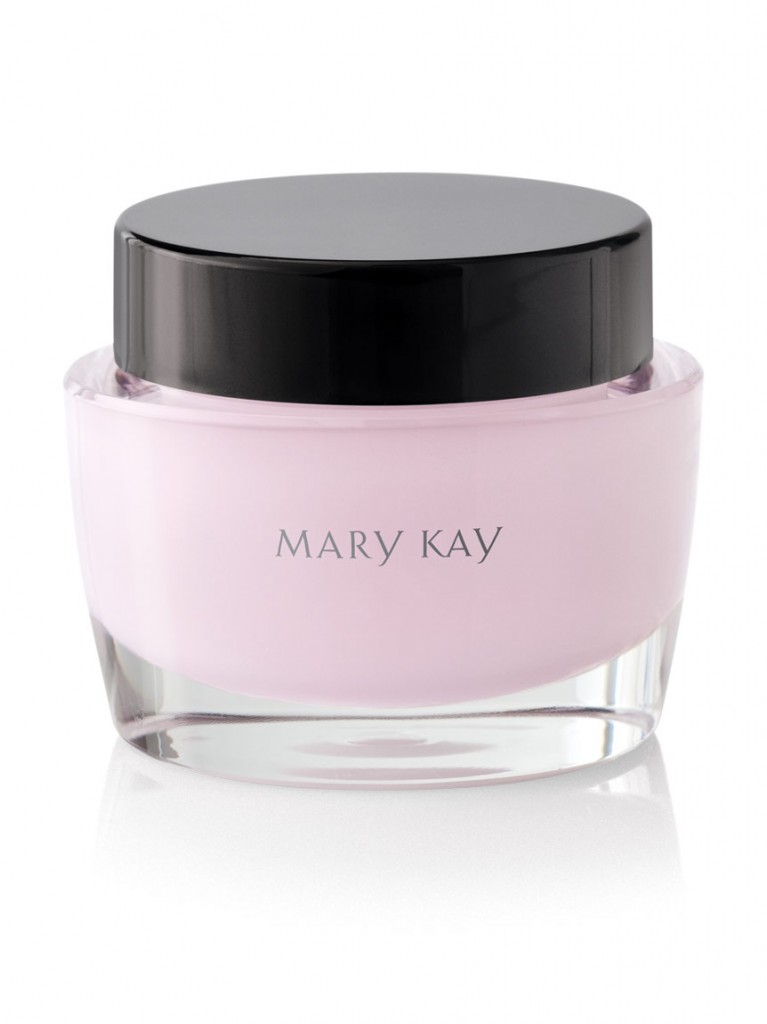 This one is also a drugstore moisturizer which has proven itself as effective. If you have dry skin and need long time protection from dryness use this. Users have felt their skin stay supple all day long . It has slight particles of mica giving you a slight brightening effect. It's available for 30$.
So these were our top facial moisturizer . we have included most favorite brands and products ranging from Drugstore to high end and more. Do let us know which ones you have used and loved and mention your favorites if we have missed any. Do keep visiting and leave your comments below.